From BYUH Newsroom (9 October 2008)
The path of righteousness: a more excellent way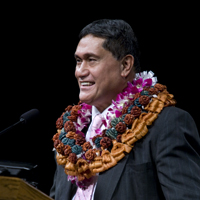 Hiagi Wesley
Photo by Monique Saenz

by Ryan Anderson | University Relations
Honesty, education, truth, and missionary work were a just a few of the topics addressed by BYU-Hawaii education professor Dr. Hiagi Wesley during his devotional address October 7. He told the students by putting God and the Church first in their lives they would "be following a more excellent way."
Dr. Wesley, a convert to the LDS Church originally from Rotuma, opened his address by encouraging the students to follow a more excellent way, and he said, "To ensure that we can be partakers of that gift, the Savior declared: Come, follow me! To truly acquire a more excellent way, we must be willing to follow line upon line, precept upon precept and live by every word which proceedeth forth from the mouth of God."
Born on Rotuma and orphaned at an early age, Dr. Wesley explained that he came into contact with the missionaries while he was attending school in Fiji. His sister was married in an LDS chapel, and it was there that the missionaries arranged to teach the young Wesley. At first, he was a tough convert: "In the first discussion, they introduced the Godhead," said Dr. Wesley. "They then told the story of the prophet Joseph Smith and the First Vision… Although the two elders were very sincere, I did not believe them. I laughed at them. I told them that such things only happened during the Savior's time in Jerusalem."
Eventually his heart was softened, and Dr. Wesley decided to be baptized. But his family was not happy about it. "After my baptism, my family found out. I was given a choice: Leave the Church and return home… if not, I would be sent back to my island of Rotuma." He decided to leave his family's home, but he was able to attend Liahona High School in Tonga.
He then shared the story of a young Korean who faced ostracizing from his family, friends and the possible loss of his military standing. This young Korean's comment to President Hinckley was, "If the Gospel is true, then what else matters…" Dr. Wesley added, "You see, just like the young Korean, each one of us who has forsaken mother, father, brother and sister, for the sake of the Gospel have made the decision to Follow a More Excellent Way."
After graduating high school, and after a short period of indecisiveness, Dr. Wesley became a missionary in Fiji. After sharing some of his mission success stories, Dr. Wesley said, "My mission has blessed me. I experienced the joy that the Lord promised in bringing souls unto him."
He also shared a quote from President Ezra Taft Benson: "When we put God first, all other things fall into their proper place… Our love of the Lord will govern the claims for our affection, the demands on our time, the interests we pursue, and the order of our priorities… May God bless us to put [him] first and, as a result, reap peace in this life and eternal life with a fullness of joy in the life to come."
Dr. Wesley then counseled the students from Shakespeare's Hamlet: "To thine own self be true," and added his own counsel, "When we are true to ourselves, we're honest in all things, and in all places, and at all times. We put forth our best efforts, whether we're at school or at work or with our callings in the Lord's Church."
Acknowledging the difficulty many of the international students have with returning to their home countries, when situations at home may seem less than ideal, Dr. Wesley offered some advice: "The real test of our uprightness is when we're faced with tough decisions. Whether it is the Honor Code or keeping the Law of Tithing or living up to our commitment to return to one's home country to build the Kingdom, it is part of being true to thine own self. I believe returning to our home countries is a matter of faith. We need to follow the counsel of the Lord when he said: Trust in the Lord and lean not unto thine own understanding."
Gaining an education is also an important decision when trying to "follow a more excellent way," said Dr. Wesley. "Be assured that the Lord expects us to be educated. When deciding what type of an education to receive and what to learn, Dr. Wesley admonished the use of D & C 88:76-80, part of which counsels us to know "of things both in heaven and in the earth, and under the earth; things which have been, things which are, things which must shortly come to pass…"
Notable men such as President Hinckley, Elder Russell M. Nelson and Elder Neal A. Maxwell have also had much to say on the subject of education, and Dr. Wesley shared some of their words. Elder Nelson said, "because of our sacred regard for each human intellect, we consider the obtaining of an education to be a religious responsibility."
Dr. Wesley then tied education to the idea of being true to one's self: "Whether we choose to attend or miss classes is our own choice. Whether we follow through and complete the assignment or become slothful, it is a matter of being true to ourselves and our commitment to gaining an education."
"When you choose to follow a More Excellent way, you will choose the right. You will make the decision to be at the right place, at the right time. You will learn to be a wise steward with your time and discipline yourself. When it is time to study, you will study. When it is time to work, you will work, when it is time for the beach, you will enjoy yourself. When you stretch your mental capabilities, you will discover the joys of learning. When you experienced spiritual stretching, you will grow in the Gospel, just like when you experienced physical pain, you gain strength and muscles."
"Pres. Benson declared: We must prove everyday of our lives that we are willing to do the will of the Lord. Pres. Hunter said: Ultimately, what our Father in Heaven will require of us is more than a contribution, it is a total commitment, a complete devotion, all that we are and all that we can be."
"In the context of why we're here at this setting, our education, training and a heart given to the Lord will enable us to fulfill the second commandment: Love thy neighbor as thyself. When we experience mental calisthenics through the application of studying and learning, and with the appropriate dispositions, we will be in a position to fulfill the challenge in front of our campus: Go forth to serve.
"Our lives will then be a testimony of knowing the only true God and Jesus Christ –the eternal gift which Heavenly Father sent us. We are then Following a More Excellent Way."
---
From BYUH Newsroom (13 January 2009)
Professor Wesley to head reorganized Pacific Institute
by Mike Foley | University Relations
Brigham Young University Hawaii has appointed Education Professor Dr. Hiagi M. Wesley [pictured at right], a BYUH alumnus, as Director of the university's newly renamed and reorganized Jonathan Napela Center for Hawaiian and Pacific Islands Studies.
Wesley noted that the Jonathan Napela Center began on campus 50 years ago as The Polynesian Institute and explained, as of this semester it now consolidates Hawaiian Studies [1], the Pacific Institute [2], Pacific Islands Studies, and Pacific languages — Tongan, Samoan, Maori, "and, of course, Hawaiian is already included in the Hawaiian Studies program." He also said BYUH web pages for the respective components need to be updated to reflect these latest changes.
Just as Wesley retains some of his Education Department responsibilities in the College of Human Development, he pointed out "professors who teach Pacific Islands courses will also remain in their own departments."
"I'm very excited for this new assignment. It's very much related to my background," continued Wesley, who is originally from the unique island of Rotuma, a small Fijian Dependency about 300 miles north of Suva. "That identity is very important to me," he said. "I know my culture and my language."
Wesley recalled he moved from Rotuma to Fiji at age 16, and then attended Liahona High School in Tonga. After serving a Latter-day Saint mission in Fiji and attending BYU-Hawaii, he transferred to Rick's College (now BYU-Idaho) and then graduated with bachelor's and master's degrees from BYU. Wesley next returned to Fiji as a teacher and administrator at the LDS technical high school in Suva. Later, after earning a doctorate at BYU, he taught at the University of Guam for five-and-a-half years, traveling throughout Micronesia; and he also taught in Utah before joining the BYUH faculty three years ago.
"This is a special place, and I've always wanted to be here," Wesley said of his return to Laie. "I've always wanted to work with the students from this region. It's not just that my roots are in the Pacific, but I've always loved the settings."
"I believe that having a center like this acknowledges that this special institution is built on this island, and validates the people of Hawaii, the culture and our thinking in terms of the Pacific. It recognizes the fact that we cannot do a better job preparing our students unless we know about and authenticate the region in terms of culture, languages, and the political and economic situations."
"This place is very viable in terms of preparing students to serve in this region. For example, the Polynesian Cultural Center is like a laboratory, and this is the academic part of the culture, especially when it comes to research. We hope that this place will say, we'll help you know more about the region. We are helping prepare students to return home. The more they know about their home islands, they will be better contributors when they return home."
He pointed out that, beyond degree-seeking students in the Hawaiian Studies and Pacific Islands programs, others in social work, business, political science, education, etc., from and/or interested in the region, can also benefit from the center.
"I'm excited, knowing that we'll help prepare the students better and the faculty how to teach them better," Wesley continued, pointing out the Napela Center provides materials and helps connect academics through its scholarly journal and other publications. It also helps connect with the broader community through its Board of Fellows — a diverse group representing a wide range of Pacific island cultures and expertise.
"We definitely want to strengthen our programs, reach out to the region, and be a resource," Wesley said. "I know the administration is committed."
For an enlightening article about the Wesley family see "Tai Wesley's Got the Looks" in the Cache Valley Magazine.
---
---