From Fijilive (15 July 2007)
Dewes now a Fijian
He arrived into the country with a mission - to have his name in the 30-member FMF Flying Fijians team for the Rugby World Cup.
Originally from Rotuma, Graham Dewes had never set foot in Fiji. Playing for Auckland Marist in New Zealand, he found out about the national trials from a friend.
Dewes with his strong spirit, pressed on despite knowing his chances would not come easy.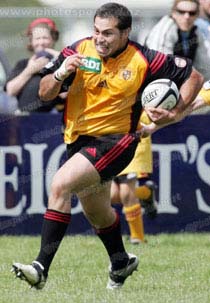 Graham Dewes
"I attended the first trials in Sigatoka and there were all these players that spoke fluent Fijian that had lived in Fiji or kept in touch with their heritage and here I was, totally new to the country despite knowing that this was where I came from," he reveals.
Dewes impressed national selectors so much that he was chosen for the Pacific Nations Cup and featured in all of Fiji's game after Japan.
"I felt like I had robbed someone else of that position, someone who deserved it because they knew more about Fiji than I did. But I also wanted to live my dream and this was the first wall down."
Now having being included in the national team to France in September, Dewes believes this was truly his calling.
"Spending day in and day out with the guys was godsend. Not only did I learn on the field but out of the field had its lessons. I didn't have to travel the whole of Fiji to learn about my culture but rather it was the morning devotions during camp, eating with my teammates and getting to know them that I learnt what its like to be proud of one's country."
"My dream is now coming true and it wouldn't be for the guys in the team. I now feel like a Fijian and proud to be considered for the World Cup, wearing white with my nation at heart," Dewes added.
---
From Fijitimes Online (17 July 2007)
A step up for Dewes
by Otilly Rabuku
WITH no connections in the Fiji Rugby fraternity, New Zealand-based rugger Graham Dewes does not regret joining the Lomaiviti Barbarians team to the QVS Old Boys International 7s tournament in March.
"I had Fijian friends back at home who told me to try out so I tagged along with the Lomai Sevens team just to see if I could get in for the trials," he said.
"It was at this trip that I met Pio (Bosco) and Ilivasi (Tabua) and they encouraged me as well to come to the trials and see what happens," Dewes said.
Born and raised in Suva, Dewes left Fiji at the age of 9 while a student at International Primary School.
His mum Ofa Panapasa, who grew up in Suva, hails from Tonga and has maternal ties in Noatau, Rotuma, and because of this, Dewes was always enthusiastic about donning the Fiji jumper someday.
His dream became a reality when he was named in the 30-member team to the Rugby World Cup.
"It's always been a dream for me to play for Fiji but I've been away for so long and I really can't explain how I felt after being named," Dewes said.
"My dream is now coming true and I now feel so at home with these boys and proud to be in the Fiji squad for the World Cup," he said.
"First it was a huge relief after the nervous week leading up to the trials but I was really excited especially being a new kid on the block," he said.
"I'm ready for any challenge and will give it my best to everything that comes along," he said.
The Auckland-based rugger who plays for the Auckland Marist club recalls the first trial in Sigatoka as a nerve-wrecking.
"At the first trials in Sigatoka, most players spoke fluent Fijian and I struggled to blend in but at the end I made new friends," he said.
---
Photos of Graham's luncheon with the Panapasa family in Suva
Aisake Mitchell and his wife and sisters Marseu and Kiji and their husbands with Graham