Going for power-lifting gold in Samoa
By Maniue Vilsoni (on behalf of the crew)
Eliesa Irava keeps a watchful eye on Toti
As sports fans from Oceania set their sights on another South Pacific Games -- this time in picturesque Samoa, the Rotuman crew in the Fiji Power lifting team are quietly preparing for this grand quadrennial sports event. The stalwart and mentor of this closely-knit unit, Eliesa Irava, is still there pumping iron and urging his young brigade on.
Irava does not need any introduction. His rich harvests of medals from past Games and regional tournaments are well recorded. Youngest like: Shawn Monua, Lawrence Visanti and Rudolph Fonmoa are some of the keen tyros in the squad. Jioje Eric 'Toti' is one of the evergreens still present in the gym and he gees the kainaga to keep pushing the benchmark up.
The team not only has to focus on technique, strength and sheer power in its total preparation; it also has to fundraise to meet its Game's levy. Each participant has to fork out $F 900 for the trip to Apia. FASANOC is now calling for each sport's share of the levies and the final installment. The boys are trying their best to meet this financial commitment.
With a couple of students in the crew, they are all pooling their meagre resources into the team's coffers to ensure that they get to Apia in August to do the nation proud. We pray and wish them luck in their efforts to win a spot on the top podium at the medal presentation ceremony.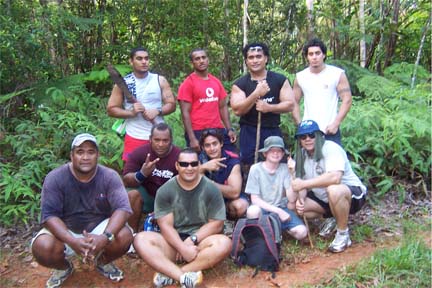 Team bonding - hiking up Mt. Korobaba.
Shawn, Eliesa, Rudolph (back row) Lawrence, Toti (middle)
---