News from Bruce Tizard-Varcoe in England (18 September 2007)
Graham Dewes at the Rugby World Cup
Graham Dewes in Cardiff, Wales
I can report to readers of the Rotuma website that Graham Dewes is in good spirits and enjoying his time with the Fiji rugby team at the Rugby World Cup. Fiji of course recorded their first game of the tournament in Toulouse, France, with a win over Japan, the game ending with a nail-biting finish - Fiji 35, Japan 31.
Much improvement was needed, however, for their second match against Canada, the match being played in Cardiff, Wales. In the first half and the early stages of the second half this was clearly evident, Fiji building up a comfortable scoreline against their opponents until bodies began to tire and Canada staged a fight-back. In a thrilling finish, the ball popped out from a Canadian attack close to the Fiji try line. Graham scooped it up and passed it on to a teammate and what eventuated seconds later was a length of the pitch sprint by man-of-the match Kameli Ratuvou to score a wonderful try sending the Fiji supporters wild with excitement - Fiji 29, Canada 16.

Graham had a good all-round game, and although tired after the match he met up with Rotuman cousins and supporters for a chat and a well deserved break back at the team hotel. He was very pleased to see everyone and was appreciative of the support and good wishes.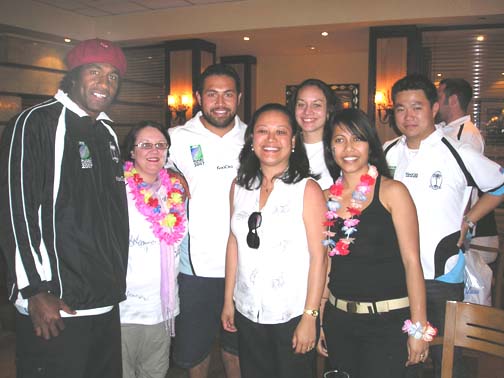 Fiji player and try scorer Delasau (red beret), Graham and supporters, including Rowena Semesi, Tieri and Leilani Tizard-Varcoe
He and the team are now back in France in preparation for their next match against Australia this Sunday 29 September.
National anthems - Graham is on the right of the Fiji team
---