From Bruce Tizard-Varcoe in England (9 October 2007)
Fiji fights back but South Africa closes the game with a win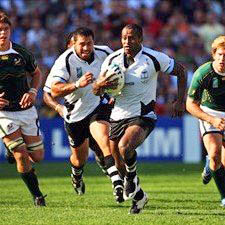 Seremaia Bai makes a break with Graham Dewes (second left) in support
Much has no doubt been written, talked about and analysed regarding Fiji's quarter-final clash against South Africa at the 2007 Rugby World Cup in France. Another game and tougher opposition - it was always going to be a difficult mountain to climb. The points gradually piled up against Fiji, until a momentous spell in the second half when the men in black and white fought their way back to score two glorious tries by Delasau and Bobo. At 20 points all and with only 20 minutes to go, hope of another World Cup upset beckoned. Further chances went missing though, agonisingly. South Africa regrouped, refocused and 'turned the screws' on Fiji to secure a 37 points to 20 win and a place in the semifinals.
For the Fiji team this was the end of the line for them in this tournament, but with the knowledge that they had played well overall, improving with every game - indeed, it can be said that this has been the best Fiji team performance at a Rugby World Cup to date.
As for Graham Dewes, a fairy-tale story - earlier this year, an unknown player on the big stage, breaks into the Fiji squad and gains his first cap in the Pacific Nations Cup. Selected for the Fiji Rugby World Cup squad and played in four out of the five matches that Fiji was involved in, including of course the thrilling quarter-final match against Wales in which he scored the winning try.
And for the Rugby World Cup 2011 in New Zealand, watch this space...
Fiji bid farewell (Graham Dewes, centre of photo)
---