From Fiji Times Online (20 December 2007)
Ray of hope for Jittu youths
by Ernest Heatley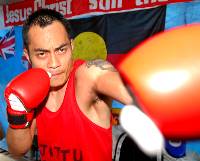 Matthew Michael trains at the Jittu Boxing Stable
Jittu Estate in Raiwaqa is an area linked to crime and unemployment and a settlement that often conjures up more negatives images than positive.
One shining light that is emerging from this densely populated area is a boxing club which has started to build a reputation for developing talented young fighters.
The Jittu Boxing Stable which picked up momentum four years ago, has given youths from the area a chance to channel their natural athleticism into a sport that many feel has experienced a downward slump in recent years....
One boxer that has shown promise is 24-year-old Mathew Michael, a middleweight from Toorak who is being eyed for the Oceania Boxing Championships in Australia in April next year.
Michael won his first outing against an International opponent last year during a tour by a visiting Australian team and lost on a split points decision to a member of the Australian Aborigine team.
The quiet-spoken Rotuman, said was looking forward to proving himself in the coming months in efforts to get a place in Fiji Olympic Boxing team in Beijing China next year.
"My aim is to make it to the Olympics just like any other aspiring amateur would want to do but I realise it will take a lot of hard work to achieve this but I am working towards it,'' said the government clerk.
The Toorak lad credited Yalimaiwai with identifying his talent and honing his skills, after he had taken a liking to the sport years ago, but never really made much progress.
"As his coach and trainer I know that he should have been in the squad a long time ago. It's unfortunate that he never got selected,'' Yalimaiwai said....
---