From Fiji Times Online (3 January 2008)
Dewes wont give up the fight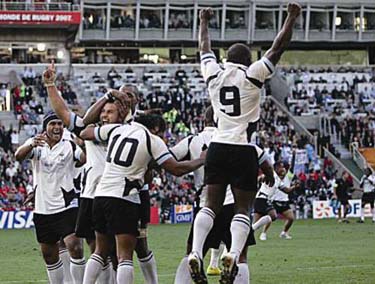 Graham Dewes is congratulated by Nicky Little after scoring the winning try against Wales at the World Cup
FIJI prop Graham Dewes is looking forward to getting back into the White jumper this year, with the England-based player indicating he is working hard to retain his spot.
Dewes, who joined second division club Esher last month, said he was enjoying his early days there.
The former Auckland Marist player was one of the stars for Fiji at the Rugby World Cup last year, scoring the wining try against Wales in pool play to send the Flying Fijians back into the quarter-finals for the first time since 1987.
He is expected to be the number one prop for Coach Ilivasi Tabua for the next four years in the build up to the 2011 RWC in New Zealand. "Yes everything here is good," Dewes said from England.
"Settling in well with my new club, but it is very cold," he said.
Dewes has rated the level of competition with Esher as good for him as he tries to improve his game.
"The level is good but the style of play is a little different," he said.
"Back in NZ they run the ball more, here they play a bit tighter."
With most of the national reps being in action and having had a good outing for their respective clubs in Europe, Dewes is confident of retaining his spot in the Fiji team.
"Can't wait to get back and put the white jersey on again," he said.
"I just have to keep training and earn my spot again."
Dewes will learn later this month how long his contract will be extended for.
He is on a month's trial but the club is impressed with his performances so far.
That is almost certainly a signal he will be in demand.
---