From Fiji Times Online (24 February 2008)
Lack of incentives a concern
by Rodney Duthie
THE lack of incentives to keep young athletes on the tracks is a major drawback for the sport of athletics, says former schools sprint champ, now top sprints coach Bola Tafoo'u.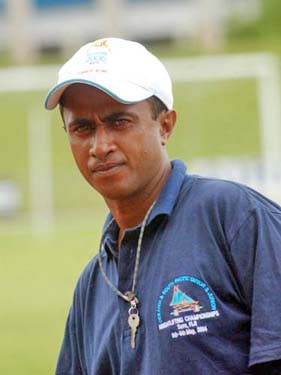 Bola Tafo'ou
Over the years, Athletics Fiji and Tafoo'u have watched a big number of athletes who shine at primary and secondary school competitions stray to other sports.
Sprinters like Saula Roko, Brett Williams, Viliame Nasuku, Isaac Mow and Richard Levula to name a few, have switched allegiance from a sport they once dominated.
"At the end of the day, athletes see that there is nothing in it for them," Tafoo'u said.
"There's nothing to be offered to the athletes so they turn to other sports like rugby or soccer which are semi-professional in the country.
"But there's nothing much Athletics Fiji can do because we don't have funds like the bigger countries that pay their athletes.
"A lot of our star athletes from secondary schools turn to rugby because it's a national sport."
He said there was a need for the Government to help secure scholarships, preferably in America, for athletes.
It was one for the likes of Solveni Koroi and Jone Delai's group but something went wrong and all except Jone Delai returned home to pursue his career.
For Tafoo'u, who hails from Motusa in Rotuma, it was all passion. He is a product of the Fiji finals as well and held records in the 400 and 800 metres.
This was during his time at Laucala Bay Secondary School and then later at Marist Brothers High School.
The last time he was involved in an organised competition was in 1987.
Tafoo'u said because of the lack of incentives, athletes have shown a lack of effort and motivation to do the hard yard.
"Because there are no incentives, athletes have shown a lack of commitment and perseverance towards their training. Athletics is an individual sport and it takes a lot of discipline, time management and dedication. That's the secret behind winning."
Tafoo'u said he stayed with athletics because he "loves" the sport.
"I played other sports also but I just couldn't leave athletics.
"I also had a good coach in Samu Yavala who encouraged me to push on."
He said the secret behind success in athletics was getting the base work right.
"When schools name their teams, they have little time to do their base work, which mostly involves phases of training in endurance and weights," Tafoo'u.
"Some students only do the last phase of their base training thinking they're fast, but when it comes to the Coke Games most of them fall out halfway.
"Suva Grammar started their preparations last November. If you watched Suva Grammar last year, they did well because their secret was doing the base work well."
Tafoo'u said students wanting to represent the country in a number of overseas competitions need to begin training.
"This year we have a lot of tours for athletics students. There's the Oceania Championships and Pacific Games at the end of the year.
"We'll be taking a number of athletes with us, so they need to start training now."