From Fiji Times Online (16 August 2008)
Local stars can make it in NRL
By Fred Wesley
A number of players in the Nadera Panthers and the Nabua Broncos are ready to take the step into the Australian Rugby League's National Rugby League competition, says NRL referee Ricky McFarlane.
McFarlane controlled yesterday's Fiji National Rugby League grand final between the Panthers and the Broncos.
Vula Dakuitoga's Panthers beat the Broncos 14-12 in an exciting clash at the National Stadium in Suva.
McFarlane picked out Broncos winger Jo Tadulala and Panthers fullback Ilaitia Racakau and frontrower Mark Panapasa as players with the talent and skills to make it to the next level.
"It was an exciting game," he said of the final. "It was pretty unpredictable compared to NRL matches I've controlled. "With a bit of general discipline, most of these players can make it to the next level.
"There were some pretty impressive footballers out there." He believes Tadulala, Racakau and Panapasa can make inroads into the NRL with good coaching....
Dakuitoga ordered an expansive game, relying on pushed passes in the contact area. Hooker Chanel Panapasa was under pressure to feed the Panthers' linebreakers wide off the ruck. He came off with a number of darting runs on the fringes of the play-the-ball area, going past the advantage line....
---
From Fiji Times Online (2 September 2008)
Brothers make the cut
by Josefa Makaba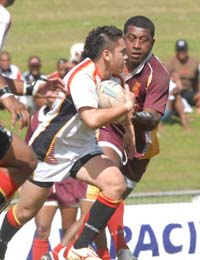 Chanel Panapasa, left, has been named in the Fiji Bati Under-19
BROTHERS Chanel and Mark Panapasa have forced their way into the Junior Bati squad for the Australia tour in November.
Their selection follows a strong performance throughout the year for the Nadera Panthers in the local competition.
The brothers helped the Panthers beat the Nabua Broncos in the grand final early this month.
Junior Bati coach Jo Savou said the team was mixture of secondary school students and a couple of players who had been playing at club level.
"We have a couple of players like the Panapasa brothers and Josefa Rasiga who all play for the champion Nadera Panthers," Savou said.
"This team will play the curtainraiser in one of the Fiji Bati's matches during the Rugby League World Cup in November."
The Junior Bati will play the St George-Illawara's age group side.
Savou said the tour to Australia was part of FNRL's development work in trying to identify and develop our young rugby league players.
The team will start preparations for the Australia tour with a training run at Suva Grammar School ground at 10am on Saturday.
The team was selected after the trials held at the National Stadium last week....
Front Row: Sateki Umu, Penijamini Mata, Mark Panapasa, Carl Andrews
Second Row: Vonivate Katololo, Sisa Baleikoro, Levi Moli, Senikaloni Kalougata, Simione Kanainaveta.
Lock: Apenisa Canasau, Lemeki Damu.
Hooker: Apenisa Cokanasiga, Chanel Panapasa.
Halfback: Noa Kurumaira, Josefa Rasiga.
Five-eigtht: Nikola Matawalu, Solomoni Qetia.
Centres: Jovilisi Taira, Eseroma Melokibau, Taito Rabo.
Wings: Jone Saukuru, Kameli Vaniqi, Akuila Waqabaca, Eparama Takape, Metui Koroi.
Fullback: Venione Tamaya, Saiasi Mataitoga.
---