Seán Óg Ó hAilpín honored by Dublin City University
Dublin City University Alumni Office launched the first Alumni Wall on Wednesday 1st of October in the John and Aileen O'Reilly Library. The Alumni Wall covers a wide spectrum of high profile graduates from Airgeadas, Ríomhairíocht agus Fiontraíocht (Seán Óg Ó hAilpín) to BA in Communications (Ardal O'Hanlon).
DCU President Ferdinand von Prondzynski welcomed all the Alumni Wall nominees back to DCU. The event was well attended by staff, graduates and students. Rotimi Adebari, a new member on the DCU Alumni Council, spoke about his student days in DCU and the support he received in the university. Rotimi graduated from MA in Intercultural Studies 2005 class.
Gerard Kiely, Alumni Relations Officer in DCU, said the Alumni Wall nominees would be a great source of inspiration for current and prospective students in DCU. "As a graduate of DCU, my decision to come here in the first place to study journalism was very much based on the calibre of graduates from this university," Gerard said.
Cathy Holahan, Chair of the Alumni Council, said the Alumni Wall will be an annual event in DCU with new nominees selected for each academic year. The Alumni Wall photos will be retained in the Schools in which the graduates studied.
---
Seán Óg Ó hAilpín
Airgeadas, Ríomhairíocht agus Fiontraíocht 1999 (BSc. in Finance Computing and Entrepreneurship)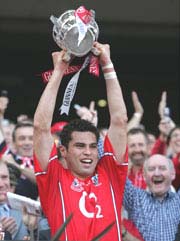 Seán Óg Ó hAilpín, (born 22 May 1977 in Rotuma, Fiji) is a sportsperson of Fijian-Irish descent. He plays hurling with his local club Na Piarsaigh and has been a member of the Cork senior inter-county team since 1996. Seán Óg captained Cork to the All-Ireland title in 2005. He is widely regarded as one of Cork's most iconic players and is one of the most well-known faces in Irish sport.
In a senior inter-county career that has lasted since 1996 Seán Óg won three All-Ireland titles, five Munster titles, one National Hurling League title and one Railway Cup title. As a former Gaelic footballer he has also won both Munster and National Football League honours.
He has also been the recipient of many awards and honours off the field. Since 2000 Ó hAilpín has won three All-Star awards. In 2005 his hurling prowess earned him the three most prestigious personal awards in the game – the Vodafone, Texaco and Gaelic Players' Association Hurler of the Year Awards. That same year he was also presented with the RTÉ Sports Person of the Year award. Seán Óg was the only amateur sportsperson on the award's shortlist.
He currently works as an official with the Ulster Bank group in Cork.
Seán Óg is an Alumni Award recipient from 2006.
---