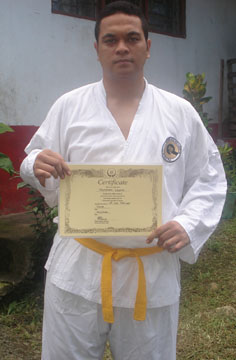 Seforana Kauata with martial arts certificate
From Fiji (23 December 2008)
Seforana Kauata Progresses in Martial Arts
Seforana Kauata has been awarded two karate yellow belts and certificates in Shotokan and Goju Ryu Karate in just 10 months. He joined Shotokan Karate in February 2008 and obtained his first yellow belt and certificate in September. He joined Goju Ryu Karate in July and received his second yellow belt and certificate in December.
Seforana is 24 years old. His parents are Alfred from Malhaha and Kiji from Itu'muta.
Karate martial arts run in the family and in his blood, his father being related to Grandmaster Henry Gibson.
Seforana gives thanks to the Lord God and his parents for giving him the strength to succeed.
He wishes all a Happy Merry Christmas & New Year 2009!
---