From Fiji Times Online (1 October 2011)
USP association to participate in Rotuma Games

by Rashneel Kumar

UNIVERSITY of the South Pacific (USP) Rotuman Students Association (RSA) will make its debut in this year's Rotuma Games to be played next weekend.
Fiji Rotuma Sports Council president Rupeni Fonmanu said the event would have five clubs competing in three different sports to be played over two days.
Alongside USP RSA (included on trial basis), host Ra'esea, Sarafui and Satarua from Suva and Nadi-based Granville club are set to tussle at the Suva Grammar grounds on October 8 and 10. Fonmanu said men's, women's and mixed volleyball, rugby and netball would be the sports competed at this year's event. He said the event was organised to foster unity among Rotuman people, organise sporting contacts with Rotumans locally and abroad and to liaise with other local sporting bodies to improve the standard of games.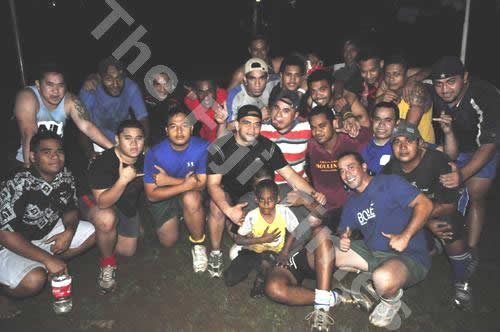 Members of the Satarua Rotuma rugby team after training on Thursday
Picture by Jone Luvenitoga
Fonmanu added they had large pool of talented players and the Rotuma Games was an ideal platform for them to break into national scene. "This event is held in October every year. It falls during the Fiji Day holiday weekend. The main purpose to organise this is to get our families and friends together," he said.
"In the past we have produced some national reps like Ravai Fatiaki who at one time had played in the Rotuma Games.
"So this event also gives us an opportunity to develop the talented players and mould them into better players."
Alongside Fatiaki, who is at the Rugby World Cup with the Flying Fijians, Panapasa brothers Chanel and Mark are some of the notable players to have come out of the Rotuma Games.
"Only three sports will be played this year and our aim is to introduce more sports in the upcoming years to strengthen the level of competition," Fonmanu said.
Meanwhile oldest Rotuman club, Sarafui, is the defending overall games champions. The side won the rugby title last year.
Satarua and Ra'esea are the defending champions of the women's and men's volleyball respectively.

---