From Fiji Times Online (14 November 2011)
Ravai to join new club

by Rashneel Kumar

FLYING Fijian Ravai Fatiaki is expected to join his new club Worcester Warriors by end of this month.
The Naitasiri player in the provincial competition signed with the England-based club before the 2011 Rugby World Cup which was held in New Zealand.
Worcester Warriors coach Richard Hill confirmed to Worcester News, Fatiaki had passed his English test and was finalising his visa.
"Having passed his English test, Ravai is in the process of finalising his visa," Hill said.
"He's applied for it and they've said it's OK, but he is still waiting to actually receive it.
"As soon as he has his visa in his hands, he can book flights to come over here.
"We are looking for him to be here in the next 10 days."
Hill said they do not see Fatiaki as someone to make an immediate impact on the first team.
"The original idea was to have a good look at Ravai before the end of the season.
"It is his first time playing club rugby outside of Fiji, so I think he'll take a little bit of time to settle in.
"He might prove us wrong and be a revelation right from the word go, but he was signed more for a longer-term development."
The Warriors signed the Fijian centre in the bid to revamp their 2011/12 Aviva Premiership chances.
The 24-year old was recommended by former Flying Fijians assistant coach Greg Mumm.
Hill said Fatiaki was similar in many ways to a number of the Fijians who had been playing in France, like Gabriele Lovobalavu and Seru Rabeni.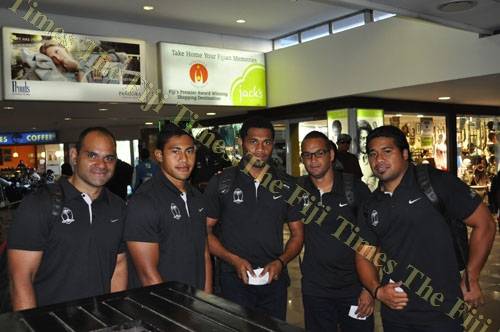 Ravai Fatiaki, centre, with his Flying Fijians teammates, Deacon Manu and Metui Talebula. Photo: Fiji Times file
---