From HSBC Sevens (11 November 2011)
Tavo to lead Australia Women's team in Dubai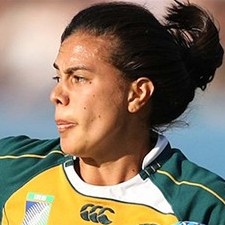 Tavo in action at RWC Sevens 2009
RWC Sevens winner Rebecca Tavo will lead Australia's challenge at the first ever IRB-sanctioned women's tournament in Dubai next month after being unveiled as their new Sevens captain.

Tavo, who succeeds long-time captain Cheryl Soon, will return to the scene of Australia's sudden death victory over New Zealand in the final of the inaugural Women's Rugby World Cup Sevens competition in March 2009.

"I was shocked [to be asked to captain the side], I didn't really know what to say," admitted Tavo, a dual international who helped Australia win the touch-football World Cup in Edinburgh earlier this year.
"I actually asked Laney [Australia Sevens coach Chris Lane] if he was sure he wanted me. But seriously, I was blown away. It is a huge honour and I'm very proud to be given the chance. I'm really excited for Dubai and especially to have such an awesome team behind me as we run out."

The appointment of Tavo as captain came on the first day of an 11-day training camp in Queensland with new coach Lane labelling her the "perfect person for the job".

"She is an outstanding player who has the respect of all the girls and truly leads by example," Lane said. "Rebecca is the ultimate professional. With her experience in touch football, and our new group having a fair amount of girls coming from there, she is the perfect person for the job."

Australia will be joined by South Africa, USA, Canada, England, Brazil, China and Spain in competing for the IRB Women's Sevens Challenge Cup in Dubai on 2-3 December, the tournament being played alongside the second leg of the HSBC Sevens World Series.
---