From Fiji Sun Online (30 December 2011)
Erasito sets new record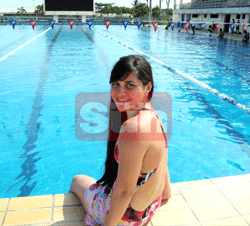 National swimmer Tieri Erasito at the Damodar City Aquatic Centre yesterday
Photo: RAMA
By Vuniwaqa Bola
She was not even born when the record was set in 1992 by Sharon Pickering.

Tieri Erasito recently broke the longest standing record in Fiji swimming.

The 17-year-old Rotuman lass broke the 2:28.38 seconds record during the Plymouth Leander Championship in the heats by 2.28.32 minutes and later smashed it again setting a new time of 2.27.95 in the 200 metres butterfly.

Erasito has just returned from the United Kingdom for a two-week break before she goes back to join her Plymoth College. She was offered a two-year part swimming scholarship, Proud mother Lucy Erasito revealed to SUNSports how her girl, the youngest in a family of three siblings, does what she does best.

"For her personally, it's consistency and dedication to training and she has always been the one waking us up every morning."

Lucy said Tieri had to sit for an exam to make her qualify for the scholarship when she was a student at International Suva and she decided to take up the challenge.

Apart from passing the exam, her swimming times had to be good too and for young Tieri, setting benchmarks for herself helped her a lot.

"After taking part at the Singapore Youth Olympics last year, she set herself a goal to get into the Pacific Games team."

This Tieri achieved and managed to grab six medals.

"She set aims for herself and her priority this year was doing well at the Pacific Games. Now she wants to qualify for the 2016 Olympic Games," Lucy said.

And her mother believes that her going to boarding school in the UK will help Tieri a lot especially being away from home where she needs to work things out herself.

"She's been getting help from some Fijian people who help her along the way during her time there."

"Before she left she talked to everyone, her teachers, her friends for advice.

"Jennifer Liew, her teacher from ISS, her coaches here all gave her the thumbs up to try it out before she made her choice."

As she trains with her Tritons Swimming Club, Tieri is trying to enjoy the most of it before she returns on January 6 to continue her studies.

For her mother, the goal to qualify for the 2016 Olympics looks tough but seeing that her daughter is self motivated in achieving the goals she has set for herself, she still believes that Tieri can achieve her aim.

"I believe she does things slowly but surely she achieves it, and we as proud parents just have to support her along the way."

Tieri says everything has been going on well for her and not as tough as she expected it to be.

"But for now till 2016, I'm hoping to break more records," Tieri said.

"Breaking that 19-year-old record was exciting."

As she aims for the 2016 Games she hopes to learn more about Butterfly as it provides her with more challenges than freestyle.
---