From http://www.stuff.co.nz/ (30 January 2013)
Rocky Khan a sevens player with a difference
by Toby Robson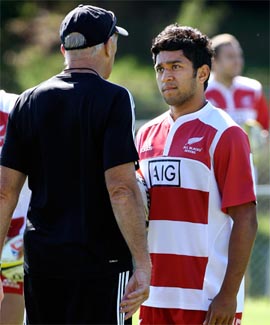 NZ ROCKY PREMIERES: New Zealand sevens coach Gordon Tietjens chats with international debutant Rocky Khan ahead of the Wellington Sevens.
Rocky Khan will create a couple of quirky historical firsts when he pulls on the New Zealand sevens jersey.
The 23-year-old is believed to be the first Fijian of Indian ancestry and also the first Rotuman to represent New Zealand in sevens.
The sight of naturalised Fijian players wearing the silver fern is nothing new - there are four in the current Kiwi squad - but players of Asian descent, in any form, are a rare thing in rugby's top flight.
Hence Auckland-born Khan's selection has been making plenty of headlines on Fijian news websites.
And although he is well aware of his heritage, the Ponsonby utility back was not aware it was a talking point in Fiji.
"Nah, I'm not really sure about it, to be honest," he said. "My parents are Fijian-Indian, my mum's actually Rotuman," he said after being named to make his international debut at Westpac Stadium. "Rotumans are not actually Fijian, but they come under Fiji.
"I'm not too sure about that [being the first Indian]. Maybe for New Zealand, but I'm pretty sure I'm the first Rotuman to play for New Zealand."
In fact, former Waikato lock and All Black Jono Gibbes was also of Rotuman descent on his mother's side.
For those not in the know, Rotuma is a tiny island 646 kilometres north of Fiji, just 13km long and 4km wide, with a population of around 2000.
While a Fijian dependency, it is home to a small but unique indigenous group.
Khan hasn't been to his mother's homeland, but said he planned to make the trek one day.
For now, his focus is on a sevens career with a New Zealand side that he was seemingly destined for since he left Mt Albert Grammar.
The nippy playmaker was quickly elevated to the Auckland sevens team, where he has been a mainstay for several seasons without quite cracking the national setup.
Two years ago, the Fijian selectors were keen to snap him up, but he decided to bide his time and, a few weeks ago at a national training camp, he finally convinced Gordon Tietjens to give him the nod.
Khan, who is studying sport and recreation at Auckland University of Technology, said Wellington was the dream tournament to make his debut.
In fact, he is no stranger to the tournament, having spent the past two years in the stands.
He is reluctant to divulge what costumes he wore but, if he can make an impact this weekend, it may be a while before he is back among the party crowd.
"Rocky Khan is a player . . . probably the nearest to Tomasi Cama that I have with his knowledge and understanding of the game," Tietjens said.
"It's always in the back of my mind that, if I lose Tomasi Cama early in a tournament, then I need someone to step into that position.
"But I feel Rocky potentially also could be huge in the game of sevens."
Khan joins Cama, Lote Raikabula, David Raikuna and Luke Masirewa as New Zealand players of Fijian descent.
- © Fairfax NZ News
---
Note from Mark Vaurasi in New Zealand
Rocky's mother is Tina Khan (Rotuman). Rocky is also a regular member of the Kingsland Rotuman Methodist Church Congregation; and I'm sure all Rotumans are feeling very proud of Rocky's achievement. We wish Rocky a long and successful career with the NZ All Blacks 7s Rugby team and hope that he continues to play well and be selected for the next Olympics. We will certainly be cheering for him and the All Blacks, this weekend.