From Fiji Sun Online (6 March 2013)
Sutton confirms
By Leone Cabenatabua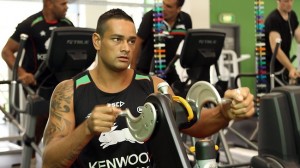 South Sydney Rabbitohs co-captain John Sutton
South Sydney Rabbitohs co-captain John Sutton is available to play for the Vodafone Fiji Bati at the Rugby League World Cup if only he is not injured.

Sutton spoke with Fiji Bati assistant coach Joe Rabele during the Australian Fijians Rugby (AFRL) Awards Night in Sydney last Saturday night.

"He (Sutton) is available but first he wants to go through the 2013 NRL competition," Rabele said.
"If he is not injured then he is available to play for the Bati at the World Cup in England."

The veteran Rabbitohs first five-eight took out the Petero Civoniceva medal during the awards night.
Rabele said the 2012 AFRL Player of the Year Award was scooped by former KBL Saru Dragons centre Peni Botiki.

"Botiki plays for the IIIawarra competition and his club is one of the feeder clubs to the Saint George Illawarra. Last year Botiki played in the Saint George trials and later another NRL club Parramatta Eels also tried him out."

Rabele said Botiki was on the products of the Vodafone Cup competition and from the Fiji Residents squad he got this Australian contract in 2011.

"He was not there on the awards night but I went on his behalf since he was one of our local products."

Meanwhile, former Fiji Bati and NRL player Wise Kativerata said local players who make it to the NSW Cup or other related competition in Australia should be considered for selection.

"These local players work twice as hard to get a contract overseas and while there they work three times harder to get to that level. But for players who are born and bred in Australia if they can't reach that level then they should not be considered for selection at all and there'll be a lot of them coming up since it's the World Cup year."

Kativerata said players playing in the NRL competition are closely monitored by the clubs and should not be a worry as they are always in top shape.
---
Note: John Sutton is the grandson of Semesi and Garsau of Savlei & Lau, Rotuma. His mother, Elena is married to John Sutton Sr.
---
From Fiji Broadcasting Corporation (21 March 2013)
Bati want Sutton
The Fiji Bati are talking with South Sydney Rabbitohs John Sutton to fill in the playmaker's role in the national side for the Rugby League World Cup. Sutton has maternal links to Rotuma which qualifies him to play for the Bati. Fiji National Rugby League administrator Tomi Finau confirms that Sutton has been on their radar. "John Sutton. He is the one we would like to have. We have been talking for sometime now and we hope that it comes through. There are other players but we would really like to have John Sutton." FNRL is hoping that all NRL players eligible to play for Fiji are able to make it into the squad. Finau says if this happens, the Bati will be one of the strongest to a World Cup yet. The World Cup will be in England in October.
---