From Fiji Broadcasting Corporation (25 July 2014)
Erasito wins heat at Commonwealth Games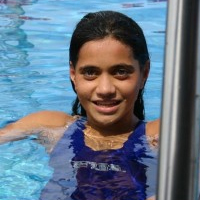 Tieri Erasito
Fijian swimmers have created a splash on Day One of the 2014 Commonwealth Games in Scotland.
Leading the headline act, was Tieri Erasito, who finished first in her women's 100 metres butterfly heats.
Matelita Buadromo was also in great form, as she finished second in 200m free style heats. In the men's 50m butterfly, Meli Malani finished second.
---