Benitos' generosity
SENSEI Rigamoto Kafoa returned to his island home, Rotuma in August 2013 to start karate lessons for the youths.

Thanks to the cheerful and giving heart of a former Fiji resident couple, who now reside in Queensland, Australia who gave karate equipment to Kafoa, his team can now elevate their standard of training.

The couple Waqavuka and Elaine Benito also paid for the fare of Kafoa and his team when they came to Suva this year for the karate national championship.

The five young athletes, who came for the national championship went back home with two gold, three silver and four bronze medals.

Kafoa said Iliesa Tuinaceva of the Ministry of Youth and Sports, who was part of the Government delegation to the Rotuma Day last year had encouraged Kafoa to start the karate training for the youths.

The 65-year-old started the training sessions at his village, Lopta and also at the secondary and primary schools for self-defence purposes. He said it was not smooth sailing for them as they encountered hardships with regards to their boat fare and equipment for training.

"I try my best to develop the sport in Rotuma and sometimes I walk around the island to teach," he said.

Kafoa is overwhelmed because of the donation by Waqavuka and Elaine is now training about 100 boxers on the island.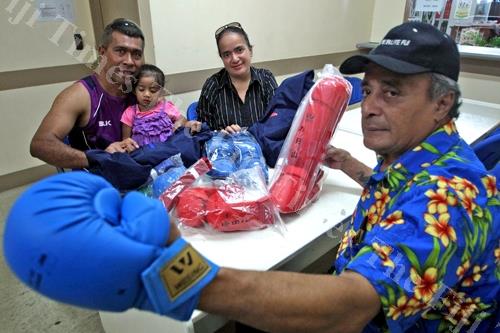 Rotuman Goju-Ryu Karate instructor Sensei Rigamoto Kafoa (right) trying out the gear brought in by the Benito family of Waqavuka (left), daughter Charity and wife Elaine Benito in Suva yesterday.
Picture: Eliki Nukutabu