Sports event binds Rotumans

by Kalesi Mele

PROVIDING an inclusive platform through which they can meet and socialise, hundreds of Rotumans around the country gathered at the Suva Grammar School grounds yesterday to mark the annual Rotuma Games.
Fiji Rotuma Sports Council treasurer Ruth Fong said participation in recent years was more diverse.
"We are not just seeing full blooded Rotumans, we have those that have maternal or paternal links and those here that are spouses of Rotumans and we even have some who have traced their roots right down to their great-grandparents which makes it a lot more diverse compared to before," she said.
Rotuma Games brought together a total of seven teams competing in seven sporting disciplines with the furthest team travelling from the island.
"This is the only event where we are able to meet each other and socialise and interact using sports which is our main aim, to help them get to know each other. This is also the only time other than Rotuma Day which is held much earlier in the year that we get as many Rotumans as we can together," Fong said.
The Sarafui team took top honors in the netball competition defeating western based Mairo 14-12 with the Satarua team winning the rugby competition on points difference.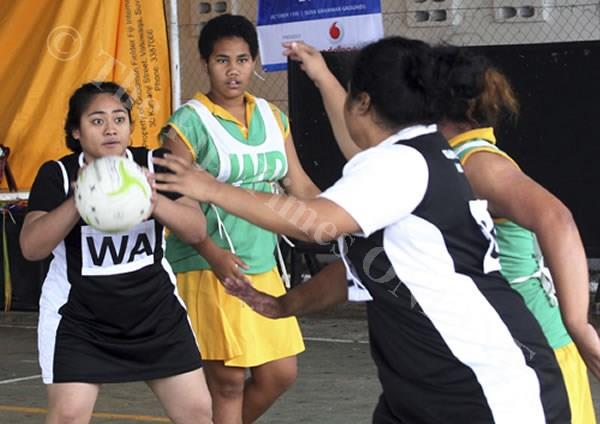 Lorina Filipe, the Granville Nadi wing attack ready to pass against Tiare during the netball competition at the Rotuma Games at the Suva Grammar School courts. Picture: Atu Rasea
© Fiji Times Ltd.
---