From Fiji Times Online (11 April 2017)
Duo ready for event

by Paulini Ratulailai

ROTUMA High School will be represented by two athletes in next week's Coca-Cola Games.

Rafaele Pau'u will be taking part in the 200m, 400m and long jump while Munivai Garisau will take part in the junior shot-put event.

Coach Ponijse Tadrau said they would try to win gold in the Fiji finals.

"We came in with one athlete last year and we won gold so this year we'll try to win two.

"We've come this far and we're relying on both of them to do us proud. All we can say is we need support from the Rotuman community here in Suva to come and cheer for the two athletes,' Tadrau said.

He said even though they did not have any good facilities back on the island, they still managed to get through.

"We have only one secondary school and the kids compete among themselves and we try to get more athletes in the future.

Meanwhile, making his debut in the games, Garisau is looking forward to compete.

"I am happy to be here and I'll try my best to win gold for my friends and families back in Motusa,' Garisau said.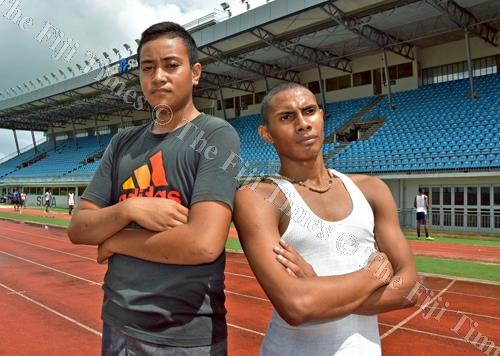 Rotuma High School athletes, Munivai Garisau, left,and Rafaele Pau'u.
Picture: Jonacani Lalakobau
---