From Fiji Times Online (30 October 2017)
Erasito eyes next Olympic Games

By Paulini Ratulailai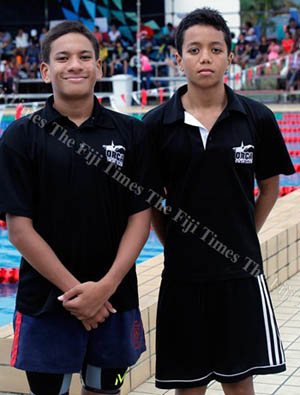 Hefu Erasito and James Kado the members of the Orca club at the Damodar Aquatic centre yesterday.
Picture Atu Rasea
MARIST Brothers High School student Hefu Erasito aims to make it to the next Olympic Games after breaking eight records in the Short Course Regional championship.
The 14-year-old said it had been a tough journey for him considering his age.
"Breaking records was not what I expected but with my experience in competing in the short course championship in New Zealand has opened my mind and eyes on how we can improve our performance when we compete in international tournaments," he said.
"James Kado is one of my toughest competitors, he is a good swimmer and I learn a lot from him so we both help each out since we're both from the same club. For me my biggest aim is to make it to the Olympic Games but in order to reach that I need to compete in some local tournaments but overall aim is to the South Pacific Games and the Junior PAN competition next year."
The Malhaha Rotuma lad says it takes strength and courage to win but it takes determination to break records.
Hefu broke the men's open 400m individual medal setting a time of 5:08.12 and also in the open male 200 butterfly with a time of 2:25.05. He stamped his mark in the male 13-14 80m free style with a time of 9:12.00 and 1500m freestyle.
Barracuda Swim Club were crowned champions with a total of 314 medals, Dolphins Swimming Club in second place with 137 medals and third place to Tritons Swimming Club with 104 a medal tally.
---