From Bream Bay News (31 January 2019)
Waipu Premiers' Rugby Coach Graham Dewes staying on for another season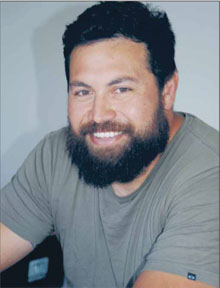 Waipu Rugby Permiers' coach Graham Dewes hopes to stage a pre-season match between his team and the Takahiwai seniors.
After taking his team to the Northland finals last year Waipu Premiers' rugby coach Graham Dewes has agreed to stay on for another season.

The ream reachedd the semi-finals in 2017, so working on past results, this year should be an exciting one.

"I have a good bunch to work with. The majority of the boys I worked with for the last few years are still
around", he said.

Three players: Taniela Koroi, Michel Lea and Ropate Rinekama have picked up overseas contracts.

They have landed places in a Singapore, Asia Pacific Barbarians team, which will compete in the new Global Rapid Rugby series sponsored by the Australian billionaire Andrew Forrest.

Graham is pleased for them. He says they have demonstrated that through playing good rugby for Waipu there is a pathway to becoming professional.

Another source of pride for him is that last year through having a good season with Waipu, four of
his players made it into the Northland Taniwha team.

Graham said, "I get a kick out of watching them grow and reaching their goals."

Some of the players just want to come along and play rugby and that's fine with me as well.

Two years ago he selected Sam McNamara, who grew up in One Tree Point and was just 19 at the time,
as captain of the Waipu Premiers. Asked what he saw in Sam to choose him for this role, Graham said Sam
is very humble.

"I like that about him. He works hard and he doesn't say a lot but when he does talk he is worth listening
to."

Graham was born in Fiji but moved to Auckland when he was eight-years-old. His father is a kiwi and
his mother's family is from the island of Rotuma, which is a dependency of Fiji.

He was a member of the Fiji team, which reached the quarter-finals in the Rugby World Cup of 2007. In fact, he scored the winning try in the 38 – 34 win against Wales and became an overnight hero in
Fiji. Before moving to Waipu in 2015 he played for Counties Manukau in Auckland.

Graham made the move because he wanted to advance his career in the building industry. The
Waipu Rugby Club helped him into a job with Oliver Tuck Construction. He said his partner Tilila has kept
him grounded and encouraged him to think about his future once his rugby playing days are over.

Graham played for Waipu for that first year and then became a player/coach. Now he concentrates on the
coaching.

He found the culture here very different to that of Counties/Manukau where players have to fight for a spot in the team. When he went to his first pre-season training in Waipu only four players turned up.

"That evening in bed I was wondering what I had come to but I reminded myself that what I was here for was the job as a builder."

One of the conditions Graham negotiated when he took on the coaching role was that the Waipu
Rugby Club would assist him to bring promising young players from Fiji to Waipu. It is important to him to give these young men opportunities they would not otherwise have.

He maintains links with rugby coaches in Fiji who help him choose the best candidates. He has three selection criteria. The first is that they must be good rugby players; the second that they have clear goals and the third is that they have good morals and are honest.

"I am bringing them into my home and into my family so I need to be able to trust them", Graham said.

He also brings players up from Auckland, spreading the message that Northland is a great place to play rugby offering many opportunities.
The Fijian players board with Tilila and Graham. The Waipu Rugby Club helps out with food donations such as parcels of farm-killed meat. Tilila is grateful as those towering young men "can eat up a storm". She keeps a pot of stew on the go through most of the season.

She works part time as a flight attendant and has young children to care for but doesn't mind the extra cooking and the permanent houseguests.

"It's his hobby. It's what he is happy doing."

Tilila and Graham say their home is a bit like a marae with people constantly coming and going.

Graham has set up a gym in his garage, which many of his players call around to work out in.

Living at One Tree Point he is well aware of the Takahiwai League Club just down the road and has an
idea he hopes to pull off this pre-rugby season.

He came up with this at last year's Bream Bay Sports Awards.

"We have these two proud clubs here in Bream Bay. Takahiwai League Club is one of the best league clubs
in Northland and Waipu is one of the better rugby clubs."
Graham has approached Takahiwai about a pre-season match between the two clubs with 20 minutes played in each of the codes. Keep an eye on the Bream Bay News for details of this exciting upcoming event.
---