From Fijivillage (21 May 2019)
Dreams come true as Zimran Kamea and Elijah Vosadina are chosen to be Chiefs for a day

By Lena Reece
Dreams will become a reality next Saturday for 13 year old Zimran Kamea and 9 year old Elijah Vosadina who have been selected Chiefs for a Day by the Gallagher Chiefs players who will be hosting the BNZ Crusaders in Suva.
Zimran and Elijah with help from their family entered the 'Chief for A Day Competition' run by the Gallagher Chiefs on Facebook.
Elijah's mom, Nicole Vosadina says that Elijah who is a student of Marist Brothers Primary School has an artificial leg and this does not deter him from playing rugby with his friends and from watching local rugby competitions on Saturdays.
She adds that Elijah also has not missed a Chiefs game in Fiji.
Kamea who is a student of Rotuma High School says he is a huge fan of Sam Cane and got his grandmother to help him with his application for the competition.
The 13 year old is also currently attending Dudley High School as he prepares to represent Rotuma in a Swimming Competition next Saturday.
Super Rugby Committee Chair, Litiana Loabuka highlighted the 'Chief for A Day Competition' received over 100 applications and the top 5 were chosen and sent to the Chiefs in Hamilton New Zealand.
Loabuka adds that the Elijah and Zimran were the lucky two chosen by the Chiefs team to watch them live at the ANZ Stadium next Saturday.
The Chiefs take on the Crusaders at 7.35pm next Saturday at the ANZ Stadium in Suva.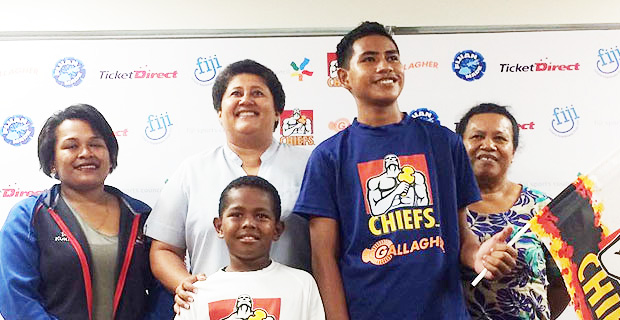 Zimran and Elijah with help from their family entered the 'Chief for A Day Competition' run by the Gallagher Chiefs on Facebook
---