From the Financial Times in London (30 July 2004)
Some of you may remember Philip Williamson when he was a VSO volunteer on Rotuma in the late 1960s. It's rather interesting to see how Rotuma is represented in the news story about him in the Financial Times (below). For the complete article click here.
"Philip Williamson, the chief executive of Nationwide building society, has always been interested in economics. He went in 1967 on a Voluntary Service Overseas (VSO) scheme to teach English on Rotuma, a remote Fijian island which ignited his interest in developing economies.

Apart from Williamson, an Irish priest and two American nuns, there were just 500 people on the island. [Not true, of course! There were more like 3,500 people on the island then.]

Indeed, there was no doctor, so if people injured themselves, he had to help to set their limbs. He slept on a grass mat in a hut, and went fishing with a benzene lamp and a spear."
---
From Fiji Times (19 July 2004)
According to a report in the Fiji Times, Prime Minister Qarase has decided on changes to his Cabinet that would include promoting Marieta Rigamoto, who is currently the Assistant Minister in the PM's Office, to Cabinet status, along with one senator.
---
From Bruce Tizard-Varcoe in London (18 July 2004)
"Pear ta Ma on Maf" ("The Land Has Eyes") comes to London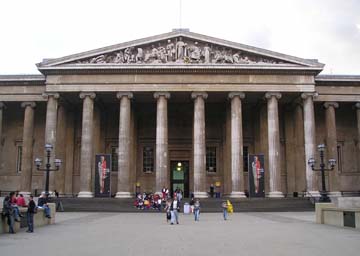 The British Museum
After screening his film "Pear ta Ma on Maf" ("The Land Has Eyes") at the Moscow International Film Festival in Russia, Vilsoni Hereniko flew over to the UK to visit his son Daniel and managed to give a small screening at the British Museum in London with the help of The Pacific Islands Society of the United Kingdom and Ireland (P.I.S.U.K.I.).
The film was well received by those who attended and there was much laughter and tears of joy and pride also. Vili gave a question and answer session after the film and this was followed by speeches, including one from the Fiji High Commissioner to London, HE Mr Emitai L. Boladuadua, who has visited Rotuma in a previous role.
---
From Alan & Jan in Honolulu (10 July 2004)
It was with great pleasure that we attended the graduation party of Keola Duke Aisake (Ying Loong) Kaluhiokalani last evening. He is the son of Manao & George Kaluhiokalani and the grandson of Mereone Yee (from Noa'tau). Keola graduated from Kamehameha High School in May, when he was presented with seven awards for excellence. An outstanding athelete, Keola played varsity baseball and football, and participated in track & field and paddling. He was a leader (president of his sophmore class, co-captain of the varsity football team) and an artist (violin, singer) as well.
One of Keola's teachers described him as "a very gifted student who has a marvelous work ethic that he uses to help him reach his full potential. Keola . . . holds himself to a high standard for excellence that he applies to both his work in and outside of class. Keola is also one of the friendliest students I have. He always has a big smile and a friendly greeting for everyone he meets."
And a school counselor expressed admiration for Keola's "ability to maintain the delicate balance between the time and energy demands placed on him by his athletic involvement and his rigorous course load. I can think of few other athletes I have worked with in my seventeen years as a high school counselor who are as dedicated to academic excellence as Keola."
Keola has been accepted to Princeton University, one of the most prestigious in the United States, where he plans to study economics and communications.
---
From Fijilive (9 July 2004)
Rotuma chairman assaulted
Police are investigating a dispute on Rotuma in which the chairman of Island Council Visanti Makarava was assaulted yesterday.
The Assistant Minister in the Prime Ministers office Marieta Rigamoto and other government representatives were present at the Oinafa District meeting when the assault occurred.
Police say Makarava was assaulted during a dispute over a chiefly title.
They confirmed an investigation has started although no arrests have been made.
Police spokesperson, Mesake Koroi says there was a scuffle between the members of Oinafa District Council when disagreement arose over who should be given the chiefly title of Nio Mafag.
Koroi says the situation on the island is calm.