Sekope Tagilala, 13 yrs
McKinley Institue of Technology
Redwood City, California, USA
skezkope@gmail.com

My SPARK Moment
Noa'ia. My name is Sekope Tagilala and I am going to be 14 years old next February (2006). My mom is from Rotuma and my sisters and I are excited about plans to visit Rotuma sometimes in the near future.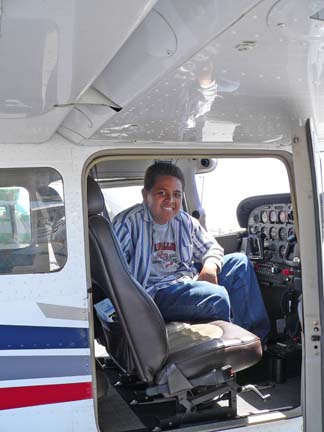 Sekope Tagilala
Last summer, I was offered a partial scholarship to attend a youth educational program called the SPARK program in Redwood City. This program was held a the Clifford School for the whole summer. Along with 10 other students and 2 great tutors, we did apprenticeship programs that we had an interest in. My chosen apprentice field was to learn how to fly a plane because it has always been my dream to be a pilot. At first I didn't think it would be possible for them to arrange for flying lessons, but I was surprised when my SPARK coordinator told me that I would actually be flying a real plane. They hooked me up with a mentor and I thought he was the best mentor ever. His name is Dave Zitten and he taught me various things about the structure of planes, the mechanics needed to make a plane fly and important information about how I can make my dream to be a pilot be a reality. I spent up to 2 hours per day with Dave for the first week, going over everything about flying and airplanes. When he first let me be the pilot, I was so excited. I couldn't believe I was actually doing it on my own. With Dave Zitten guiding me step by step, I took off, flew and landed the plane . It was an awesome feeling and made me seriously think about the idea of being a pilot in the future. Nothing beats the rush when I was amongst the clouds and looking down at the land below. The earth looks awesome from above and I felt like I was a king rising above in the clouds mastering my ship.

I enjoyed my apprenticeship and time at the SPARK program and think that these types of programs help youths make important decisions about their chosen career paths.
To read Dave Zittens account in the Flyers magazine about our time together, see below.
---
RESONATING WITH AN APPRENTICE
by Dave Zittin , CFI
This July, I volunteered to work with a fledgling program that fosters self-directed, hands-on learning opportunities for bay area youth. The program is run by Resonate Learning, which believes that children develop into productive, engaged adults when they are given the opportunity to pursue their interests. There is a strong commitment by the program to connect these young folk with adult members of the local community to facilitate this pursuit.
This spring, Resonate launched a "summer discovery" program named SPARK. Part of the mission of this program is to connect student apprentices to adult mentors who are willing to provide their apprentices with hands on experiences at their places of work. My apprentice was a 13 year old named Sekope Tagilala. Sekope is a young man of few words, but he was good at asking insightful questions. I had no idea what I was getting into, but I knew I would be working with someone who wanted to pursue an interest in aviation. The SPARK coordinators, instructors, bus drivers and bottle washers - both of them, Melia Dicker and Chris Balme - assured me that apprentices were screened to determine that they were receptive to learning and well behaved. I met with Sekope twice per week during the month of July.
On our first meeting Sekope and I put together a lesson plan. We couldn't cover everything, so we narrowed the plan to maintenance, air traffic control, the pilot and the airplane. The lesson plan included three hours of flight - thanks to WVFC for donating Sekope's July membership fee and the club portion of the hourly fees!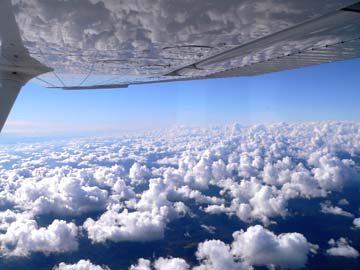 The view from above
Our time together was special as I could tell from Sekope's questions and responses (especially to the flying part - it was "aaawesome!") that he was getting something out of this experience. Our flights included some basic maneuvers near the coast, a trip interacting with ATC during a bay tour, and a final hour using cockpit automation - GPS and autopilot. In addition to the flight portion, we received the usual gracious and informative tour of the Palo Alto tower by the tower staff. Kevin Pinger gave us permission to tour the WVFC maintenance shop, where we saw airplanes and engines in various states of repair.
We spent our last few hours preparing and rehearsing a power point presentation, which Sekope gave in the auditorium at Clifford School in Redwood City to an audience of about 50 consisting of parents, mentors and other community members. Sekope and the other student presenters did a great job. Sekope later presented me with a note thanking me for his experience working with me and ended with a sentence that made it all worthwhile for me: "I hope one day I will able to treat you to a free ride when I am a pilot."
I can't wait.
For more information, see www.resonatelearning.org