Oli Tagilala, 12 yrs
McKinley Institue of Technology
Redwood City, California, USA
olitagilala@yahoo.com
I would like to tell you about the kids club that I belong to. Firstly, I am Oli and I am 12 years old. My connection to Rotuma is through my mom. I have not visited Rotuma yet, but I think I would like to visit Rotuma sometime in the future with other kids in our kids club.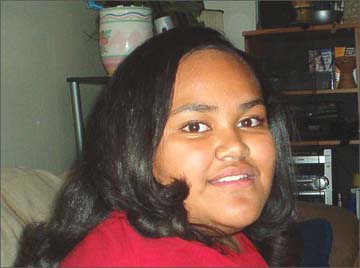 Oli Tagilala
About 2 months ago, my family joined a few other families here in the San Francisco Bay Area, and the idea for a South Pacific Kids group was formed. All the parents agreed that they would like to create a group for South Pacific Islands kids so that we kids can learn each other's cultures, languages, and just spend time getting to know each other; make short-term and long-term goals; and fundraise for interesting activities like educational fieldtrips and maybe a group tour to Rotuma and Fiji in the future. Right now the club has about 20 kids, maybe more, and more then a dozen families who meet every month or sometimes every 2nd week. Amazing is the fact that I think 90 % of kids in the club have some Rotuman connection like me. Others have Fijian, Part-European, Samoan, and Tongan connections. I really like this SPIKK club because I think all the kids in the club get on very well, like brothers and sisters, and we also have similar goals to not only enjoy each others company, but to learn cultural activities and to encourage each other and celebrate the achievements of any one of us.
This club encourages us kids to make decisions for the club, to learn cultural items and even lets us form our own little kids' discussion group within the large group. The club is called SPIKK which is short for South Pacific Island Kids Klub. And some of the interesting things we have done so far as a group is to have family day outs in the park where the grow-ups organize potlucks, BBQs, volleyball games and the kids have organized activities like learning basic Rotuman words, arranging mat weaving lessons, and having T-Shirt printing competitions. Most of the kids have watched the new movie The Land Has Eyes and enjoyed it. Parents and children also compete against each other in volleyball and sometimes the kids win the games, which is totally cool.
Right now, our club is practicing a few island dances to perform at one of our club fundraising efforts. All the kids will be performing and we are so excited about it because we will have costumes and all that good stuff. In one day, we were able to learn two island dances that we choreographed ourselves (with the direction and help of our wonderful parents of course), and I think its going to be a successful performance. I was just told that we will be performing a Rotuman dance and maybe a Fijian one, too, if we can learn it all in the short time. We also have a long-term goal to maybe visit Rotuma as a group in the future and everyone is looking forward to this because we have heard so many beautiful things about Rotuma from our parents.
I love this SPIKK club. Its a great club for children and I think all kids' clubs should be like ours coz not only is it fun to be in, it is educational and we learn about our culture and tradition and that's a good thing to know. I love all the parents and the kids in the club coz I feel like I have a whole lot of family that I can relate to and I like that thought.