James Oakley (12 yrs old)
Auckland, New Zealand
Son of Savika (Malhaha) and Roger of NZ
savrog.oaks@xtra.co.nz
On 14 December 2005 my mum and I went on a plane to Fiji. We arrived at Nadi airport to be greeted by a heat wave and four Fijians serenading us with Fijian songs and playing their ukeleles. It was what you would call a very warm welcoming.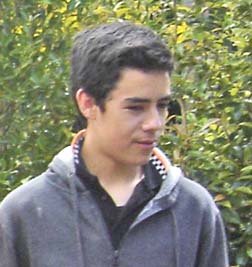 James Oakley
We caught the bus (Sunbeam) to Suva (thank God it was air conditioned). After about a three-hour ride we finally arrived in Suva to be greeted by young guys pushing their wheel-barrows around looking for luggage to carry. I held on tight to my wallet (luckily there was not much in it) and video camera. My uncle picked us up--to his amazement I seemed too tall for my age as my cousins were not very tall; I put that down to NZ air.
We spent four weeks in Fiji. The first week was spent on shopping (actually all four weeks were spent shopping)--my mum's favourite hobby. My mum's goal was to visit all the shops in Suva, so each morning after breakfast, once everyone had gone to work, she would ask, "Who wants to go to town?" and off we went. The bus rides to Suva were exciting. The bus fares change all the time; I gave 30c, 40c or 50c depending on how many coins I had at the time.
In Suva we met a lot of our Rotuman friends and relatives. We went and saw King Kong (at Village 6) hoping to shop at MH's afterwards, only to find out that the place burned down while we were at the movies.
We went to all the shops in Suva (mum's dream fulfilled) and had lunch at different places (my dream fulfilled). There were lots of people shopping during the Christmas period; you could hardly move, but everyone seemed to be in the jolly Christmas mood.
I met a lot of my relatives: cousins I met for the first time, nieces and nephews. It was good and I learned a few Rotuman words. My uncle made a hangi/koua and cooked a pig for Christmas and relatives came to spend Christmas with us. Mum ensured everyone had a present to open for Christmas, just like in NZ (a good experience for those who never received Christmas presents). Boxing day we went to Suva point and New Year's day had a picnic at Colo-i-Suva. My uncle took us for a bus ride to Sigatoka and I had to stop mum from trying to enter all the shops (again her dream fulfilled).
I learned to play different card games and the Rotuman vocabulary that goes with it such as tuka 'ae, jom se tese! etc. etc. It was hilarious playing and watching the Rotuman tricks on how to win the game.
I enjoyed walking to Centre Point (a huge shopping complex) to get the newspaper and bread for breakfast about five minutes from home. It was a good exercise. In the morning mum expected me to help out picking up rubbish (breadfruit leaves, etc.), but it was no problem as I enjoyed helping.
I also climbed a coconut tree and cut down two coconut leaves for my grandma to make a sasa broom. It was a great achievement and my mum recorded it on video.
Several koua/lovos (or what we call in NZ "hangis") were made and relatives brought food to cook. They also made fekei. I managed to help clear my uncle's garden and plant some vati/bele, and I helped cut down a banana tree to get the bunch of bananas. It was a very good experience.
On New Year's Day we lit our fireworks and again they made a huge hangi/koua. People beat drums and threw water at one another, which was the custom. It carried on for several days after the New Year.
It was sad to have to leave behind my cousins and relatives, who turned up on our last day with food to share with us and to say farewell.
We left Fiji on the 3:45 am flight from Nausori to Auckland on 14 January 2006. It was a trip worth sharing, as I enjoyed every moment.