My Malaysia Soccer Tour
My name is Cordell Smith. I am the grandson of Maggie Foster and Leo Furivai (of Lau. Itu'ti'u, Rotuma), and son of Selina Leo. I am 14 years old and I play for Fremantle City Soccer Club, based in Perth Western Australia. On 4 October our club organized, for our under 15's team, which I am on, to go to Malaysia and compete against some of the most experienced teams from all over Malaysia. In preparation for our trip our team began training three times a week, which included fitness, strength and technical work. I have been playing soccer from the age of seven. Each step has been difficult, but it has been a worthwhile experience; total hardwork and dedication gave me the opportunity to be where I am today. I have played academy level and premier level, which is the highest league level in Western Australia.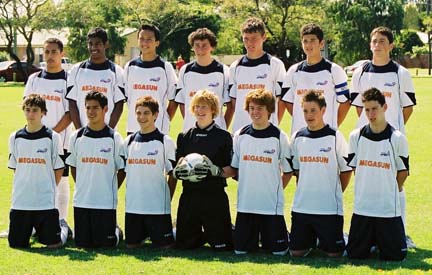 Freemantle Under 15 City Soccer Team. I am third from left in the back row.
Over this past year I have had a difficult run because of injuries, which has seen me miss many games, but in the last two games that counted the most I was not injured and performed at my best, which made a difference in the outcome of the games. I play in the defense line but I am also able to play other positions, such as central midfield and striker. My team this season was good enough to be undefeated, and we won our league and cup game. In the final match the scores were even, which led to a grueling extra time and then to a penalty shoot out. Our goalkeeper made an excellent save that won us the match.
We departed on 4 October at 12:30 am from Perth International Airport. We then had a five hour flight to Kuala Lumpur airport where we waited two hours, but going through customs and getting to our gate took up a lot of that time. We then had a one hour flight to our final destination, which was Penang. As soon as I stepped outside I could feel the humidity. I was starting to sweat even though I wasn't doing anything. We got on our coach (bus) and headed to our hotel, which took 45 minuets. Our hotel was called 'Bay View Hotel' and it was great.
Our first match was against the under 15's Penang Sports Club team. They looked well prepared. We played very well under the conditions of the weather. We won 6 nil and had a great time. After the game we waited around for our bus home when they invited us to have curry puffs and hot tea. We had a good talk with them about their lifestyles and what they do in Malaysia. Our second game was against the under 17's Chinese team. They looked very intimidating. The first half was tough with their advantage of being older and stronger than us and the heat wasn't helping. In the second half our best right midfielder hurt his knee and was unable to play any other games in the tour. We lost this game 2 nil, but it was a good lesson for us.
Our third game was against the Penang veterans. They consisted of some ex-international stars who played for England and the Malaysia team. They were stronger and more experienced than us, but agreed with our coach and manager that they were not allowed to go in hard because we didn't want any injuries so early in the tour. We lost this game also, 1 nil. The next game was a disappointment. We arrived at the pitch to play the international school team when we discovered that the pitch was not up to standard. There were gravel patches and long grass up to your knees. We didn't play this game. Our last game was a second match against the veterans. We learned from the last match and decided that we were going to win. We were victorious this time, 3 to 2. We celebrated after the game with a big meal and a presentation of shirts and medals. They congratulated us on our profound effort and then we departed.
Every morning we woke up at 7 o'clock to have a beach session. This went for an hour, then we had breakfast. We then had spare time until training at 12 o'clock and that went for an hour-and-a-half. It was hard training but was also fun. Then we had extra time to do as we pleased until our games, which were at 5:30, but we had to be ready and downstairs in the lobby at 4:30. In our spare time we played pool in the lobby, swam in the pool and at the beach that was only a 30 meter walk away, played squash, and watched movies; but the best of all was the shopping. Everyone loved the shopping. Some nights we went down the road to the markets and bought clothes, DVD's, watches, glasses and much more.
On this trip I have learned that to succeed you have to put all your effort in, encouraging others and that playing to the best of your abilities will determine the outcome of your dreams. Next year I wish to go back so that I can participate once again and show my full potential. If you ever get an opportunity like this you need to grab it and don't let go. If you don't let anything get in your way and play to the best of your abilities you will succeed in realising your dreams.
---