Rejieli Paulo is an opera singer with a growing reputation in Australia. She was born in 1975 to a Rotuman father and Australian mother. Her father, Ieli Paulo, was killed in an industrial accident in 1995. All the members of her family are musical. Her brother Samuela composes and wrote a song and sang it at their father's funeral; her sister Emeli has a lush soul voice, and brother David has a "Pavarotti" type voice according to Rejieli. Her mother, Irene, used to sing in a girl's community choir at university. The family lives in Melbourne, Australia.

Rejieli attended Hallam primary and high schools until Year 9, showing her musical talent in Grade 3 when Mrs Jean Heriot auditioned children for the Berwick Children's Choir (where Rejieli was a member for ten years-)-an experience she describes as "priceless.". This led to acceptance at St. Margaret's Girls School in Berwick on a Music Scholarship. She was accepted to the Melba Memorial Conservatorium at Richmond, where she attained her Bachelor of Music Performance.
In January 1997 Rejieli gave a singing performance at a concert honouring Dame Nellie Melba, the famous Australian opera singer. Home, Sweet Home, A Musical Tribute to Dame Nellie Melba, was organised to coincide with Melba's birthday and the unveiling of the new A$100 note that features her image. At the time Rejieli held the Melba Memorial and Amelia Joscelyne scholarships and performed some of Melba's classic arias.
Rejieli won the City of Greater Dandenong Australian Youth Aria competition in May 1999. A judge praised her as an outstanding talent who will go on to star in Australia and overseas. Her voice has been described as "raw, sweet, and forceful." It is a voice of great force, coming from a person of undistilled passion, according to one of the judges. Not only did Rejieli win the $3500 prize to go towards her future studies, she also received a gold medallion award for the most outstanding artist in the vocal section of the festival. Later in May she won the Austral Salon vocal scholarship of $1000. Next she won the Art song section of the Boroondara Eisteddfod at Hawthorn.
In June 1999 Rejieli was a finalist in the Fletcher Jones Aria at the Warrnambool Eisteddfod, where she was section winner in the Art song, winner of the vocal championship, female solo, and the modern British Art song competitions. Later that month she was a semi-finalist in Australia's most prestigious eisteddfod, the McDonald's Operatic Aria in Sydney. There were 100 entrants, all of whom had to qualify by winning other major eisteddfods, as well as professional performers. The finals were held in the Sydney Opera House. Rejieli won the Lady Gallagher memorial award, the grand prize of the City of Sydney opera awards, and was a finalist in the Opera and Arts Support Group vocal scholarship, all part of the McDonald's City of Sydney Performing Arts Challenge.
Rejieli was also one of six finalists in the Herald Sun Aria held in Melbourne in October 1999 and again in October 2000. She won the award in October 2001.
Photo from The Courier (Ballarat) Sat Oct 13, 2001. Picture by Ian Wilson
Despite her extraordinary talent, Rejieli exemplifies the kind of modesty and humbleness valued in Rotuman culture. In an interview with the Melbourne Herald Sun in October 1999, she explained that she didn't mind working as a supermarket checkout clerk because it buys her time to study roles she one day hopes to sing, as well as learn Italian, French and German.
"I like to do a lot of historical research," she says.
"For something like Don Carlos, which I'm singing at the final, I researched the Papal-French war of the 1550's.
"I'll translate the aria into English so that I can convey the meaning of the words as best as possible to the audience who perhaps don't understand the language I'm singing in. I like to learn the aria back to front.
"I prefer not to listen to recordings because I don't like to take the risk of imitating other singers. I'd rather it came from me."
A dramatic soprano, Paulo's ambition lies with opera versimo.
"I have a very rich tone and many different colors that people are always picking up and saying it's a very rare quality to have," she says.
"I hope one day to have roles in Verdi's operas. He's the greatest composer."
Rejieli and Duncan
On 14 January 2001 Rejieli married Duncan Shepherd. For the event her mother, Irene, secretly organised traditional a Rotuman tautoga in honour of her father, Ieli. He no doubt would have been very proud and happy.
According to a media release on 1 November 2001, Rejieli Shepherd-Paulo won several new awards for her singing, including the Marianne Mathy Scholarship. The release reads as follows:
Melbourne singer sweeps the pool at Mathy Awards!
"It was an exciting night at the Sydney Opera House when the Australian Singing Competition celebrated its 20th year with a gala concert for the Mathy Finals.
From 5 singers, Rejieli Shepherd-Paulo, a 26 year old soprano from Victoria, was selected as the winner of the $30,000 Marianne Mathy Scholarship. The scholarship, to assist a young singer with vocal study or career advancement, is awarded in conjunction with a number of valuable prizes including a limited edition Cherina sculpture, the Mathy.
Rejieli was also awarded several other prizes and generous cash grants bringing her winnings to an estimated value of $70,000, but then came the big surprise. She was announced as the inaugural winner of a new (and unlisted) award offering a highly valued performance scholarship at the newly established Australian Opera Studio in Perth. Known as the Gregory Yurisich Award, it is named after the Perth baritone and former Australian Opera principal, who went on to make his name on the world stage. The total endorsement by the adjudication panel and the audience of Rejieli's performance would seem to predict a similar future for this young singer who chose an aria from the Mozart opera 'Clemenza di Tito' and one of Strauss's 'Four Last Songs' for her winning performance."
In February 2004 Rejieli auditioned in London, England for the National Opera Studio.
Rejieli is currently (2007) studying with Dennis O'Neill for the exciting and intensive inaugural year of the Cardiff International Academy of voice and has had the pleasure of working with World renowned opera singers such as Jane Eaglen & Carol Vaness.
Rejieli is grateful to everyone who has shared this exciting journey so far, thank you for your love, encouragement and support.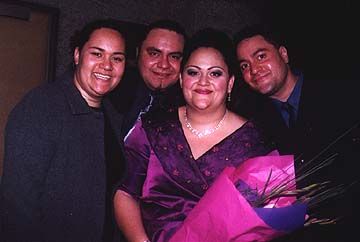 Rejieli with her sister, Emeli and two brothers, David & Samuela