From Fiji Times Online (3 July 2007)
Veteran medic still delivers
by Riteshni Singh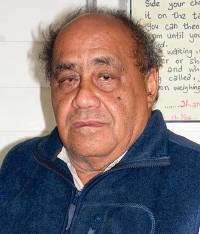 Still going strong ... Doctor Aisea Rafai
AISEA Rafai has been a doctor for 45 years and at 73 years of age, he is not planning on leaving the profession soon.
He wants to continue serving the people of Fiji and Rotuma and said he would continue to serve until his services were no longer required.
"I think I am still physically and mentally fit and I will keep working," he said.
"If my performance starts to go down, then I will stop working."
Doctor Rafai came to Fiji from Rotuma in 1948.
After completing primary school he started secondary school at Ratu Kadavulevu School.
Being brought up in the village, he loves country life and enjoyed working in the interior villages where he was transferred to.
"In the village I grew up like a ordinary country boy with my parents."
From RKS he went to Queen Victoria School and then joined the Fiji School of Medicine in 1955. He was at FSM for five years and went to New Zealand in 1956 to complete his studies.
He always wanted to be a doctor and his sick father was the reason why he wanted to be a doctor.
"My father was sickly and he died before I came back to Fiji.
"It was the one reason why I chose this profession, in memory of my father."
Dr Rafai said being a doctor was a very rewarding profession.
"I do not think I would be happier anywhere else and I would not find any job more pleasant than being a doctor.
"It is true that you have your ups and downs at times and sometimes a patient dies in front of you but the feeling you get from healing sick people is more rewarding.
"In this profession, you serve people who need care and medication with no respect to race, colour or belief.
"Your main intention is to save the patient."
He said it was always rewarding to see his patients get better.
Dr Rafai did his internship at the Colonial Memorial War Hospital before he was posted to Nadarivatu in the interior of Viti Levu.
"At that time I was just a young doctor and very fit.
"I enjoyed my two years up in the highland."
From Nadarivatu, he was posted to the Tamavua Hospital and then to Labasa in Vanua Levu for two years. After several years of practical work, Dr Rafai went to do his diploma in New Zealand in 1974. When he returned, he was posted to Kadavu, back to Tamavua and then to Koromumu Hospital in Sigatoka.
He later became the sub divisional Medical Officer for the Western Division and was head at Lautoka Hospital for eight years.
"In 1989, I came to headquarters as Director of Preventive and Primary Health Care Services."
Dr Rafai retired in 1992 and went to New Zealand for a hip operation. When he returned, he was re-employed by the Ministry of Health on an annual contract basis.
"One of the reasons I want to serve and stay in the profession was that when I came to Fiji, the Government had given me a scholarship to study because I came from a poor background.
"I was tempted so many times to go into private practice where I would have earned more money but I always thought about the scholarship that I was given by the ministry when I was in need of financial help for my studies."
At one stage, Dr Rafai wanted to go to Rotuma to serve his people but he did not have the chance.
"It was when one of my colleagues refused to go and I had opted to go.
"If I do not work and stay home I would be bored because I cannot go to the garden as much as I want.
"If I keep working, my body and mind will be occupied."
He has a brother and three sisters in Fiji.
He goes to Rotuma now and then for a holiday but has no intention to retire there for the rest of his life.
"I have seven grandchildren and they are all in Fiji." he said.
"In my younger days I used to play rugby, hockey, cricket and tennis.
"I liked gardening and one of my hobbies was photography."
Dr Rafai has been married for 45 years and has four children.
He said he found working in rural areas most rewarding because he was able to meet a lot of people.
"I always tell young doctors that this is one of the most rewarding occupations. I always tell them to enjoy the work they are doing and serve the people as best as they can.
"It is an honour to keep serving the country and I thank God for giving me life to serve.
"I think I have used the talent from God and the time he gave me in life as best as I can. The other reason I am still working in my profession is that we are short of doctors in Fiji and I think I am still needed to provide health services for the people.
"It also keeps me occupied and I am moving around and it keeps me mentally fit."
Dr Rafai is fluent in Fijian but did not learn it.
"The first Fijian I knew were swear words."
---