From Fijitimes Online (15 November 2008)
Life's 'just right' for Amoi Petero Fiu
by Geraldine Panapasa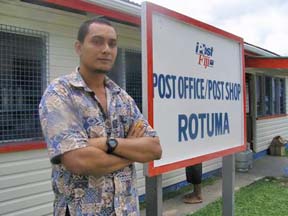 Amoi Petero Fiu
Living life the simple way is what drives 30-year old Amoi Petero Fiu. The postal assistant at the Rotuma Post Office in Ahau has never thought of giving up his day job for the city life.
Being away from the hustle and bustle of urban life has made him an independent and responsible individual.
Born and bred in Suva, Amoi is third in a family of five.
His parents are Elaiesa Fiu and Mere Kafoa from Motusa.
He never thought about what he wanted to do in life and although he changed schools a couple of times as a young teen, Amoi believes education is an integral part of a successful life.
"I went to five different primary schools and three different secondary schools. In 1996, I came to Rotuma and completed high school here," he said.
"After high school, I found a job here at the post office and started as a cashier and bulk worker.
"Life here on the island is simple and very easy. There's really nothing much to do or places to go to but I enjoy life here."
The challenging aspect of being a postal assistant is looking after day to day operations.
Being able to connect the people of Rotuma to the rest of the world whether its delivering mail or remittances, Amoi finds his job fulfilling and satisfying.
"Just last year, I was given the postal assistant position and while there are challenging aspects of the work I do, I think life here is easy and simple," he said.
"We've got everything we need and we don't have to worry about money all the time.
"Even if we don't have money, we can still survive.
"When work is done, we like to relax at home with families and sometimes we even have a bowl or two with friends but that's life here in Rotuma.
"There are times when the post office is busy but most of the time everything is normal."
The father of four said they hardly received reading material like the newspaper and if they did, news would have been stale by the time they received it.
Having "a not too big, not too small plantation" of his own in Motusa, Amoi is proud of his heritage and the work he does.
He said education is a very important part of life if one intends to be successful.
"Avoid getting into trouble or distractions from peer pressure. Stay in school, work hard and be determined to succeed in life," he said.
Amoi is one of many Rotumans at the Government station in Ahau working to provide for his family despite the rising costs.
More than ever, he is happy with the life he has in his motherland.
---