From Fijitimes Online (15 November 2008)
Hard work pays off for Anthony Tulakepa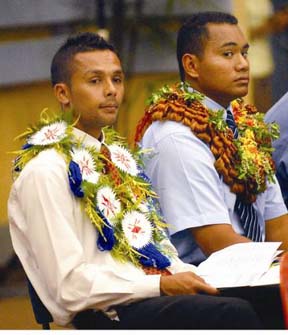 Anthony Tulakepa, right, after he received his certificate at the TPAF graduation at the Tattersell gym yesterday.
ROTUMAN lad, Anthony Tulakepa's five years of learning has come to fruition after graduating with a Apprenticeship Certificate on Aircraft Maintenance yesterday.
Mr Tulakepa, 20, attended the Training and Productivity Authority of Fiji under the Fijian Affairs Board scholarship.
Mr Tulakepa was one of the 85 students who received their certificates at the Tattersall gym in Suva.
Following his father's footsteps as an engineer, Mr Tulakepa now works at the Air Terminal Services in Nadi.
"With this ratings, I will be assigned on small airplanes before handling other big aircraft such as the 747 and others," he said.
He is adamant that the job market for aircraft engineering in Fiji looks bright.
"I heard that in the 2000 coup, they had to cut down on working hours, but now we don't have problems with job security.
He said there were 20 aircraft engineers based in Nadi.
Interim Education minister, Filipe Bole was chief guest and he acknowledged the Apprenticeship Training Scheme in Fiji and how it has helped developed a skilled workforce in Fiji.
"Over the years the Apprenticeship Training Scheme has made a significant contribution to the development of a skilled workforce. To date, the scheme has been responsible for training almost 6000 tradesmen and tradeswomen.
---