From Fiji Times Online (21 June 2008)
Audrey Kamali promotes children's issues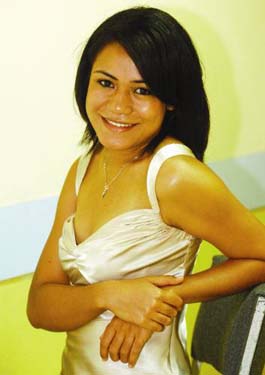 Miss Supreme Fuel Audrey Kamali
MISS Supreme Fuel Audrey Kamali will promote children's issues at the Vodafone Hibiscus Festival this year. Ms Kamali (right) hails from Wallis and Futuna, while her mother is from Rotuma.
The 20-year-old beauty is studying at the University of the South Pacific.
She lists her hobbies as spending quality time with friends and family, doing social work and sports. In leisure time, Ms Kamali helps children who are less fortunate by joining a social club under Save the Children Fund.
"Our club is called Kid's Link Fiji Alumni Club and we just came back from Vatukoula helping the kids there with finance to go to school," she said.
"My main aim in joining the Hibiscus is to help as many children have a better life and good education."
Ms Kamali attended St Annes Primary and St Joseph's Secondary School.
This year's festival, from August 15-23, will be the biggest in its 52-year history.
Secretary Aqela Cakobau said there was a lot to look forward to.
"This will be the 53rd year since the carnival started and it will be bigger and better in the sense that the ground set-up will be totally different," said Ms Cakobau.
"There will be no more scaffolding and instead, there will be marquees and the stalls will be bigger and an Australian circus will have two shows.
We are negotiating with the Chinese Embassy to bring an acrobatic team from China and there will be a section for an agriculture show.
"The day and evening programs will be exciting. Fiji TV will air live performances every day to the South Pacific. There will be contestants in various categories." Overseas trips have been lined up for the winners.
Miss Hibiscus will represent Fiji at the Miss South Pacific pageant in American Samoa in October.
As for the festival preparation, Ms Cakobau said: "It's been tough compared to last year but running smoothly, but achievable."
The theme for this year's festival is to create a festival that will promote Suva as a tourist destination, the hub of the South Pacific.
Associate sponsors are Air Pacific, Carpenters Motors, Coca-Cola, FBCL, Fijilive, The Fiji Times, Fiji TV, FMF, Go Advertising, Max Marketing, South Pacific Productions, TFL and TMS.
---