From Fijitimes Online (28 June 2008)
Faimanu Mua a witness to changing times
by Sophie Foster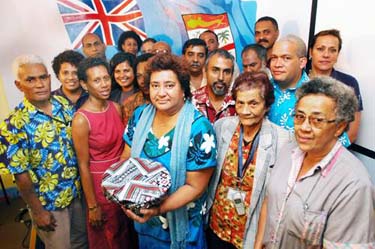 Faimanu Mua (centre with gift) with staff of The Fiji Times on the eve of her retirement yesterday in Suva
IT was 1979 the nation a mere nine years old when Faimanu Mua first started work at The Fiji Times.
She had taken a roundabout journey to get there first working within the civil service and then in tourism industry at what was then called The Fijian Hotel.
It was the days of stencils, telex machines and typewriters.
Fai who has been secretary to the chief accountant, financial controller and company secretary, and managing director says the 70s and early 80s were a comparatively labour-intensive time.
"We used to type up our material. If you wanted to send anything overseas you had to use a telex machine," she said.
"We used a big telex machine at the office on Gordon Street to send reports to headquarters. Then the first fax machines came in but only at FINTEL. So I used to go there to fax our weekly reports.
"Sometimes I used to stay until 8 pm because of the long line of people waiting. So the trick was to go to FINTEL early. It was a challenge."
On the eve of her retirement from The Fiji Times, Fai smiles as she recalls the days before technology made working life a whole lot easier.
"It was actually our newsroom that got the first fax machine and they kept it in the editor's secretary's office. Later they bought the first computer to use for accounts secretarial work. But it sat in the accountant's office for about six months because nobody knew what to do with it. So they got a trainer in for us," she laughs.
She says the same situation occurred when email was introduced but this time the training was faster and life was much easier all round. She says pre-email a lot more organisation was required to make sure everything ticked.
"Once we were stuck because our ink supplier who was supposed to hold three months' stock on-hand had run out. In fact, we only had enough to last a few days. For a newspaper that's a crisis. We had to organise a special delivery from New Zealand to get the weekend paper out.
"It really tested us. But that mistake never happened ever again".
Then there's the time when The Fiji Times helped out a newspaper in Samoa which ran out of newsprint.
"We had to arrange for them to get some of our newsprint from Fiji so they could get their paper out".
During her 29 years at The Fiji Times, Fai has seen many changes to the company and the nation.
She still has a copy of the letter sent by the managing director in 1987 advising staff they could come back to work (after the military had shut them down for six weeks).
Now Fai says she's ready for a "quiet life" running a little shop at Malhaha in Rotuma and looking after her 94-year-old mother.
"I'm going to take it slow from now on. Things have definitely evolved from when we cut a tape to send telex reports."
---