From Fijitimes Online (26 November 2008)
Fatiaki Finiasi chooses home
By Geraldine Panapasa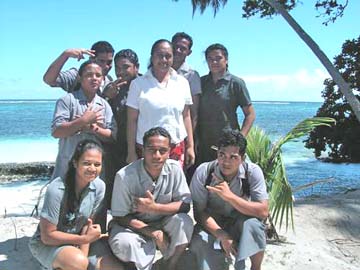 Back to her roots ... Fatiaki Finiasi and some of her students at Rotuma High School
RETURNING to her motherland to teach school children at Rotuma High is a dream come true for 27-year-old Fatiaki Finiasi.
Born and bred on the island, her father is from Oinafa while her mother is from Itumuta.
The eldest of three, Fatiaki wanted to be a doctor when she was younger simply because she loved helping people.
Life growing up was like any other village. Girls were expected to help out with family chores and the boys helped out with their fathers or brothers in the plantation.
Despite the less-complicated lifestyle on the island, Fatiaki said life growing up was very interesting.
"It's a totally different world and there is time for everything. Unlike life in Suva, where everything is fast-paced," she said.
"Here, everything is slow and you have time to do things. I attended primary school at Motusa and Paptea before going to Rotuma High.
"When I was in Form Three, I went to Fiji and stayed with relatives. I was staying with an uncle who is a high school principal.
"The transition was hard at first but as time passed, I was able to adjust."
She said being exposed to different languages and cultures in Fiji was an eye-opener but one she found very enlightening.
Fatiaki then completed Form Four and Five at Naiyala High and Form Six at Navosa Central College.
After high school, she completed foundation studies at the University of the South Pacific with hopes of becoming a doctor.
"I did foundation science but after weighing my options I realised that teaching took three years of study compared to seven years in med school," she said.
"I graduated with a Bachelor of Education majoring in biology and education from the University of the South Pacific.
"I've never regretted becoming a teacher and I believe there is a lot you can learn from your students instead of the other way around.
"In 2006, I was posted to Sila Central and later transferred to Nadi Freebird Language Institute."
She was transferred to Rotuma High early this year and although she misses friends and family in Fiji, going back to her roots is an experience she savours.
Fatiaki noticed many changes on the island in terms of the education standard, transport and communication development.
She said teaching has always been a rewarding profession.
"Working with the students is great. I get to learn new ideas at the same time trying my best to help them succeed academically," she said. "My advice for those thinking of this profession is to set goals and work hard towards them.
"If you have the heart and mind for teaching then go for it."
Fatiaki is one of a handful of teachers contributing to the development of young minds on Rotuma.
---