From Fijitimes Online (31 July 2006)
Freddy roots for Jesus
Few musicians in Fiji have trodden the path that often controversial but highly original Freddie Fesaitu has chosen to follow in a tumultuous 30-year career.
Thank you Jesus ... Freddy Fesaitu ... trials and tribulations take him back to the Christian fold
One of the founding fathers of reggae in the country, Fesaitu led Raiwaqa-based act, Rootstrata to become a household name in the Pacific with songs like Street People, Warrior of Love and Message in the Music.
Fesaitu recalled the band was formed by a group of disillusioned but talented youths living in Raiwaqa in the early, 1980s, who saw music as a way out of a dull and futureless existence in the suburbs.
I formed Roots in 1984 and the original members at the time were Ioane Burese who first coined the Rootstrata title, Porgy or George Fiji Veikoso as he is known today, Peter Rabaka, Ben Rabaka, Pedro Pakelo Morris and Kitione Mateyawa, he said in Suva this week.
We were trying to get this sound out. Each of us were so confident and brimming with ideas, he recalls.
The band emerged shortly after another promising young group, Exodus, was already spreading the gospel of Rastafari.
The reggae acts pioneered the movement with a series of historical concerts in Suva, one of which, the Cyclone ReggAid Jam of 1986, remains etched in the memories of die-hard fans of the genre.
Reggae was totally different from anything anybody else was playing at the time like rock, jazz or funk so we were part of a revolution in music circles locally, he said.
When we started getting into reggae we then started to produce original music. Bob Marley had to be one of my early inspirations along with Bob Dylan and groups like Bread, from the US.
Rootstrata was one of, if not, the first local band to produce an English video clip and probably the first to compile an English CD.
The band made a number of tours around the Pacific and to some Asian countries like Hong Kong and Thailand.
Things took a turn in 1987 when Fesaitu ditched his guitar for a war club and became an indigenous rights activist for the Taukei cause.
Fesaitu took an active part in the Taukei Movement, and was one of the founders of the organisation in 1987 during the first military coup.
Reared on the back-streets of Raiwaqa, Fesiatu says his passion for indigenous rights in the 80s was kindled by mingling with early associates who were mostly Fijian.
I was of the mistaken belief that foreigners were overtaking our national resource ownership, politically, economically and socially, he said.
When a number of troubles beset the band, including management and disciplinary problems, Roostrata disbanded in the early 1990s and Freddy opted for a solo career.
Fesaitu continued as a solo artist under the Roots banner, producing a number of albums though the aura surrounding the band hasnt been anywhere close to what it was like when the group were calling the shots on local music circles.
The native Rotuman converted to Islam in the late 90s and studied the Koran in Australia for four years under Islamic scholars from Pakistan and Egypt.
He remained a Muslim for seven years until becoming disillusioned by aspects of the faith.
A connection to a fake visa scam that involved members of an Islamic sect that had tried to hire him as a hit man in Australia against a rival faction several years ago, landed Fesaitu in jail for six months. Released in April this year, Fesaitu has now taken on a spiritual and visibly placid approach to life, living in a Christian church complex in Suva.
Fittingly, he has become an integral member of its 24-member orchestra, playing lead guitar.
The former Roots frontman, is now playing to children and wives in their Sunday best, rather than the unruly mob that he had to front up to in all his years playing in rowdy clubs and concerts.
Religion has given the 42-year old former Marist student something to hold onto, having had to come to terms with a marriage break-up while trying to keep the interest of his six children at heart.
It hasnt been easy for me and some of it has resulted in the paths I chose to go but I now know that through Gods power I can overcome these hurdles in life, he said.
Fesaitu said while in jail he reflected on his life and decided to give his life to God.
I was one of the biggest druggies in Fiji but people find it hard to believe that I dont smoke marijuana now.
When you go into prison then you know who your true friends are and because none of those I had on the outside bothered to visit me, he said.
Although I thought what I was doing was spiritual in singing about social injustice and poverty I never had Jesus at heart all that time.
I was using my own knowledge to try and beat the system and become a revolutionary but it didnt work.
These days all I play is gospel music. I know it is not easy to accept for some of my old friends but I guess this is now my purpose in life.
I have moved away from the commercial aspects of music and am now driven by the deeper and more important inspiration that is in Gods message.
At the Apostles Gospel Outreach Fellowship International Church, where he lives, Fesaitu has been composing songs for a planned album in December.
The album is to be titled Roots For Jesus, with Fesaitu trying to nail a message that the days of composing and performing purely for commercial gain are well and truly over.
---
From Fiji Times Online (15 July 2007)
Back in the fold
FREDDY Fesaitu has come full circle. If you talk to the king of Fijian reggae, he'll tell you simply that he's seen the light, that it is time to move on and accept the realities of life.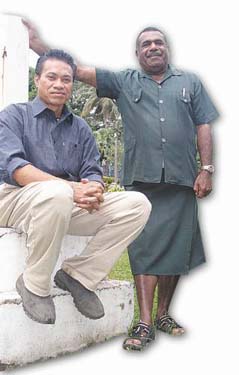 Rootsman Freddy Fesaitu with his mentor, Pastor Poate Mata in Suva last week
However hard it may have been, Fesaitu is a man who has made hard decisions before and knows when he must face the truth.
That is why, as painful as it was as he sat beside his mentor, the long-time frontman of the country's greatest band last Thursday admitted for the first time that Rootstrata is finally dead, well and truly buried.
The slate on almost three decades of socially conscious ahead-of-its-time sounds has been wiped clean.
In fact, Fesaitu, a man idolised, admired and reviled in almost equal measures, has gone the full circle.
Born a Catholic and educated in the Catholic education system, Fesaitu's musical genius came to fore early in life. From the Catholic Church's Christian Youth Movement, he rose to become a peerless producer of biting reggae hits that have become Pacific anthems.
Think Brother Kanaki, Street People, Unemplament, Warrior of Love, We're on Fiji Time, Brother Bob Marley, if not the lyrical genius behind it all, he was certainly the man with the ear for giving Rootstrata that distinctively unique one drop-style sound so much like Bob Marley and the Wailers yet so distinctively original that even today, Rootstrata remains the most sought after on the local music market.
Four months after starting out to resurrect the name and sound that came from the streets of Raiwaqa and Raiwai and which was put together by a group of like-minded young geniuses, Fesaitu has returned to the fold, saying Rootstrata has breathed its last breath.
Like the biblical prodigal son, he is once again in the embrace of Christ, turning his back on Islam and vowing never to return to prison, the low point of his life.
From the early hey-days when, at the drop of the idea, the band packed out the Raiwaqa B Cinema, to gigs around Fiji and an offshore recording deal, Rootstrata has held sway while clones, some good, most horrible, came and went around them.
In 1987 the group was sucked into the political violence they sang against, driven into notoriety by the simple desire to put food in their bellies.
Suddenly the young musical heroes found they were being ostracised, even called names like liu-muri by many.
The vilification grew worse when hunger drove them into the arms of the militant Fijian right wing Taukei movement where they became impressionable pawns in Sitiveni Rabuka's coup of racial supremacy.
Those agonising days for the nation left a permanent scar on Rootstrata.
Now Fesaitu has done his time, paid his debt to society and is picking up the pieces of his life.
He is putting his family first, simply to ensure they don't have to go through the trials and tribulations he experienced.
While in jail, he was touched by an angel in the form of Pastor Poate Mata of the Apostles Gospel Fellowship International, a man who wears his faith as his cloak.
Fesaitu asked to complete his prison term on a compulsory supervision order at the place of worship some call the Nokonoko Church and there budded a life-changing friendship.
Four months ago he was lured away from the church, hitting the road again in Rootstrata's final resurrection.
But the fire within was no longer there. Perhaps it was because he was not with the people he started out with. Whatever the reason, it did not work out.
Fesaitu, however, had the courage of conviction to go back to his mentor, vowing to turn his musical talent into leading and producing Fiji's first Gospel reggae outfit.
Now he is in the process of selling his intellectual property rights to over 122 songs, promising the proceeds from that to the Nokonoko Church.
Always the consummate songwriter, even penning a spur-of-the-moment tribute to Cyclone Raja victims in 1987, 20 years later that touch of genius has seen him write a HIV/AIDS educational track.
After that he takes charge of a group of young musicians who will spread the Gospel with reggae, Fiji's first such group.
Freddy Fesaitu may have gone back to Christ but Rootstrata's body of work will live forever, a testament of the talent and genius Fiji can produce.
---