From Fijitimes Online (1 March 2006)
Fuata's drive is his vision
by Amelia Vunileba
MOST of our sporting teams and athletes are looking forward to the Commonwealth Games in Melbourne, Australia, later this month.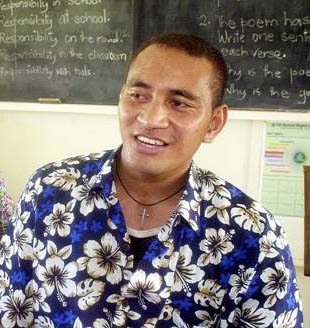 Fuata Faktaufon says people with disabilities should not let that hold them back from their dreams
Many of them have been training hard for the Games — in most cases preparations started a good year or two ago.
Not exempt from these are people with disabilities who have a different competition, allowing them to compete against others similar ilk.
Fuata Faktaufon is one such athlete and will leave with Team Fiji in a fortnight.
He has won medals in past disabled games in the 100 and 200 metres sprints and in long jump.
Fuata is actually short-sighted or low vision (as it is referred to) and can't see anything beyond two metres.
He works as a teacher aide at the Fiji Society for the Blind in Vatuwaqa, Suva,
"I teach Class Eight students and computers studies as well but I will be leaving for the Commonwealth Games in two weeks," he said.
"I only have two students in my class and even though school has just started, I want to prepare them well for the Fiji Eighth Year Examination," he said.
Fuata attended Veiuto Primary School from Class One to Six before moving to Suva Grammar School for forms one to six, finishing off in 1996.
"When my father died in 1997, I was supposed to have gone back for Form Seven but after the funeral, I had missed out on three weeks of school and knew it would be hard for me to try and catch up.
"For the rest of the year, I stayed home and the following year, I joined the United Blind People's Association, helping out in its activities," he said.
"I started taking up swimming quite seriously and in 1999, I went for my first international competition in Bangkok for the Far East Asia South Pacific Games."
He didn't win any medals in swimming at that competition and was pencilled in for the 100m, 200m and long jump in the same meet.
"I competed in those three events in athletics and managed to win bronze medals in all three," said Fuata.
"I didn't know much about running, you know seriously, for that kind of competition but I have since learnt a lot and have gotten serious about it," he said.
"After winning the bronze medals, I was able to qualify for the Para-Olympics in Sydney in 2000 and it was quite an exposure for me.
"It was the first time for me to compete in a world event and I was nervous because of the huge crowd but it was a good experience."
He said since it was a world meet, he only managed to qualify for the Games and the times he clocked at the 2000 Para-Olympics allowed him to qualify for the Far East Asia SPG in South Korea in 2002.
He has since been actively taking part in local and regional competitions and through such competitions, he was able to qualify for this year's Commonwealth Games.
"The only thing that is lacking for disabled people's sports is competition because there aren't many of us to compete against each other," he said.
Fuata says even competition from able-bodied athletes can't be wrangled because most are often hesitant to have training runs with him.
"Since there isn't any competition, we aren't pushed to limits that can make us reach higher goals in our events and it affects our performance," he said.
The man from Motusa, Rotuma, is quietly hoping some disabled events will be included in next year's South Pacific Games in Samoa because it wasn't included in the 2003 Games.
Apart from the 2007 SPG, Fuata aims to qualify for the 2008 Para-Olympics in Beijing.
Having competed in so many Games, a lot of people will think he has always been involved in sports since his young days.
Well, that is just not so.
Many people who know Fuata from primary and secondary school will agree he is an active and very artistic person.
But because of his short sightedness, he wasn't allowed to take part in any sports and the only games he played was with friends during recess and lunch breaks.
One thing that I remember about Fuata from primary school is that he was always looking up when talking to you, making you wonder what he was looking at, when was simply looking at you.
An injury to his eyes when he was a class one student led to his short sightedness, killing his dream of becoming a soldier.
After receiving treatment, he continued to attend VPS and SGS until Form Six and considers himself lucky because his school friends never treated him differently.
"I was really lucky because my friends, while not treating me differently, would always help when they thought that I needed it," he said.
That statement had me nodding in agreement because I remembered there were many a times when I would see this same Fuata playing rugby or touch rugby in the fields in Veiuto and if you were to stand from a far, you would never guess that something was amiss.
"My best years in school were 1995 and 1996 because our form was one of the notorious forms in school as the majority of students were boys," he said.
"That was one of the fun times, you know, being in the senior forms made us think we ruled the school," he said laughingly.
"Apart from my friends, teachers were understanding of my situation and were quite helpful and one teacher I will always remember is my English teacher Mrs Lewaravu."
Fuata did manage to attain some formal qualifications and in 2003 he studied for a teaching certificate in special education after securing a Public Service Commission scholarship.
"After completing that certificate, I have been working here at the Blind School as a teacher aide and like some other graduates, am still waiting for an appointment from the Ministry of Education," he said.
He started off on a voluntary basis but is receiving some payment from the Blind Society.
Although Fuata wanted to be a soldier, he now says teaching visually impaired students made him feel he was in the right place.
"I feel like this was the job that was chosen for me and I like working with the children because I understand the frustrations they go through as a result of their limited vision or the lack of it," he said.
"Working with the children here requires patience because we have to do a lot of explaining and describing, especially to those who are completely blind."
Fuata is the vice president of the UBP and encourages other visually impaired people to have faith in themselves and not to let their disability hinder their progress.
"I have managed to reach this far and I know there are others out there who can do the same but it doesn't necessarily have to be in sports, it can be in employment or studies for that matter," he said.
Apart from wanting to be a soldier, he always wanted to drive -- something he feels can never be achieved because people need to see beyond six metres to be able to take a driving test, whereas he can only see two metres.
Because he was limited (at first) with his disabilities and wasn't able to achieve a few of his dreams, Fuata is now making use of it through other talents -- a lesson indeed for all of us, don't you think?
---
From Fijitimes Online (28 October 2006)
Fuata shines at special games
By Otilly Rabuku
In the Mind ... Soloveni Tubuitamana takes in the shot put event at the special games yesterday at the Post Fiji stadium.
FIJI'S lone athlete to the Commonwealth Games in Melbourne in the Elite Athletes with Disabilities (EAD) event, Fuata Faktaufon was outstanding at the FMF Fiji Disabled Games yesterday.
Blazing the Post Fiji Stadium tracks in Laucala, the Rotuman lad from Motusa recorded his personal best winning the open men's 100m in the time of 11.8 seconds.
"I set a new personal mark and was really impressed with my performance and look forward to the games next month," Faktaufon said.
"Training with the squad preparing for the Oceania and Pacific Games helped me a lot. In the time trials two weeks ago I clocked 12.1secs so now I've improved a lot," he said.
The 29-year-old visually impaired athlete and seven others are preparing to compete at the Disabled Games in Malaysia on November 25.
Faktaufon finished second in the 200m in the time of 25.5secs and helped his 4x100m relay team to win gold.
"Its one of his best performances since the last two years," coach Bola Tafo'ou said of Faktaufon's run.
Rajnesh Prasad of the United Blind Persons of Fiji (UBP) team finished second to Faktaufon in the time of 11.9secs.
Other athletes to the Malaysia Games Iliesa Delana took out the high jump event in 1.65m and Ruci Senikula won the open women's 100m in 14secs and finished second in the 200m in the time of 28secs.
Games co-ordinator Sam Vilisoni said this year's games featured 620 athletes from 15 schools making it the biggest games ever.
"The introduction of small games apart from the track and field events has attracted a big member and it's great to see the support from schools," he said.
"Our athletes, who have qualified for the Malaysia Games stood out in their various events," Vilisoni said.
Schools travelled as far as Ra, Savusavu, Labasa and Levuka to be part of the games.
---