From Fijitimes Online (2 October 2005)
Gagaj Kautauraf: The day his family fed the church conference
by Vani Catanasiga
A FEW years ago a doctor told Gagaj Kauturaf he only had five more years to live. Of course, having lived his very eventful life through his faith in God, the old timer was not going to let one doctor tell him that.
"I told him off. I said, 'you're not my boss. I live until my father in heaven tells me to go'," he said.
At 92, Gagaj Kauturaf says he has been ready for a long time.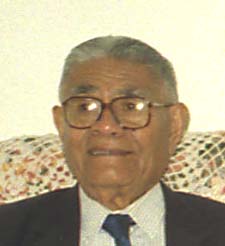 Gagaj Kauturaf in 1994
If there was one thing that was evident during our four hour-long interview, it was his faith and service to the church and Rotuma.
Like his father, he chose God over tradition when he refused to officially accept the title of Gagaj Kauturaf when he was younger. He instead chose to serve God through the Methodist Church.
According to his eldest daughter Emily Fatiaki, her grandfather had to be called back to Rotuma to be given the chiefly title.
"His father had gone abroad to an island to do pearl farming, something like that and people from his district in Rotuma had to go and look for him so that he could be officially given the title," she said.
"So when he was brought back, he instead went to Davuilevu to train as a vakatawa.
"He chose the church over his traditional title and Dad sort of followed the same thing."
From then, it was God and the church for him, even his family soon learnt of his dedication and commitment to the calling.
To this day, he still feels that he owes a lot to the Methodist Church for his education, successful career and the blessings on his children.
So much so that in 2003, he and Mrs Fatiaki asked the family to feed the Methodist Conference for a day.
"Dad had asked us to do that because he wanted to thank the church for his education and career," Mrs Fatiaki said.
"So the family and some very close relatives met and discussed the plan. On the day that the Rotuma Division was to feed the conference, we did it on behalf of them.
"We prepared months ahead and some of us thought it would be impossible.
"But we fundraised and managed to do that. We did one lovo for the president, that was to thank the church for Dad's education and career.
"One lovo was the conference. It was important that we did that." But her younger sister Fuata Young admits that she complained when they were asked to do that.
"Yes, I was the one who doubted that. I thought to myself, 'my God how are we going to do that'.
"But because it was for Dad I had to put in. In the end, we did it," Mrs Young said.
A devout Methodist, this Oinafa chief's commitment to his church has not only seen him through hard times but has also taken him around the world to Kenya, New Zealand, Australia, the US, Rome, England and a pilgrimage to Jerusalem.
Apart from his involvement in the church, Gagaj Kauturaf was also part of the Scouts Movement, rising to the position to Scout Master, the Saint Johns' Brigade (attained Order of Serving Brother), enlisted in Fiji Military Forces in the 1950s and was a member of the Fijian Teachers Association, then called Raivou.
He was also very active with the Rotuman choir, acting as tour manager when they toured Sydney in 1972 and New Zealand.
Maybe his biggest contribution to the Rotuman community was through his assistance in the translation of eight books of the old testament of the Bible to the Rotuman language.
---
Note: Gagaj Kauturaf died on 1 March 2008. See obituary.
---