From Islands Business (18 May 2009)
George Faktaufon talks about good/bad times, challenges as the Association of the South Pacific Airlines turns 30 years old
by Samisoni Pareti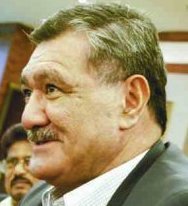 George Faktaufon
Seeing George Faktaufon organised the Association of the South Pacific Airlines' conferences at the Amora Hotel in Sydney's Jamison Street, or at Christchurch's Sudima Hotel in New Zealand's South Island, or even inside Ballroom 3 of Denarau Island's Sofitel Fiji Resort, you will be forgiven if you think the man heads a large troupe of organisers.
In all of these meetings, Faktaufon, as ASPA chair John Campbell of Air Pacific is fond of telling his colleagues, is our "one-man" organiser.
As a matter of fact, the veteran airline administrator has almost all the time single-handedly organised ASPA meetings and conferences—convened twice a year—for the last 24 years.
"When we revived ASPA in 1985, members unanimously agreed that even if it is only to provide an avenue where they can regularly discuss matters, they will be happy," said Faktaufon.
"Anything else we do together, will be a bonus."
Actually the association has been a mega bonus. As it celebrates its 30th anniversary this year, ASPA has trained up to 800 Pacific islanders in all spheres of aviation.
ASPA members will also be proud to tell you that through them, global aviation came to learn and practice code-share arrangements between airlines.
Faktaufon remembers the year as if it was just yesterday; 1981 was the first time when two airlines, Air Pacific and QANTAS introduced code-sharing. Both were and are still ASPA members.
The association did more.
---
What is PASO?
"The whole idea of PASO is to help Pacific Islands governments in providing aviation oversight through audits of airline safety. They have started to do this in most Pacific Islands countries including Fiji. The other advantage with PASO is that all the countries have adopted the New Zealand civil aviation rule, therefore we finally have the same civil aviation rules in all the countries, something ASPA has been promoting for a long time. This means for example that we can easily exchange aircraft without having to undergo additional licensing requirements."
---
Thought by some as untenable, two ASPA members introduced joint-leasing of aircraft.
It was in 1995 between again Air Pacific and the now defunct Royal Tongan Airlines.
"It only happened because of the close working relationship that we have been able to develop and harness amongst members of ASPA," explains Faktaufon.
"We will continue to meet twice a year because they are very useful forums where we can continue to address areas of common interest, interact with each other as well as with our service providers."
Originally from Rotuma, the Polynesian island in Fiji's northernmost border, Faktaufon is Secretary-General of ASPA. He works from the first floor of Nadi Airport's terminal building, through a door that you enter behind the international check-in counter.
After years of loyal service, Elizabeth Susau—his secretary—took early retirement for medical reasons. Replacing Susau is Matilda Munia.
ASPA as Faktaufon will tell you was formed in 1979 and it was then housed inside the secretariat of SPEC, the South Pacific Economic Council now renamed as the Pacific Islands Forum.
There was no full-time official then, and largely because of this, ASPA died "a natural death" two years later.
The revival, according to Faktaufon began in 1985 at the urgings mainly of John Schaarp, who was seconded from QANTAS as Air Pacific's new CEO. It was Schaarp, learning that one of his senior executives had retired and gone into consultancy, called Faktaufon and offered him the job of "part-time" consultant for ASPA. The part-time label soon developed into full-time and by 1988, the workload of the association had accumulated to such an extent that the decision was taken to make Faktaufon a full-time staff. He has been Secretary-General of ASPA since then.
"It was during the UN decade for transport, from 1985 to 1995, that we were able to tap into the UN system and acquired funding for some training.
"Altogether we got about US$1.5 million to provide training for our people. Out of that funding, we were able to train about 800 people in the region, non-technical training including management.
"Apart from that we were able to work with some national institutes like the Fiji Institute of Technology to establish an aircraft engineering training programme."
For someone who has worked for Fiji's international airline for many years, Faktaufon can be described as one of the old hands in the industry. He has seen the coming and going of some airlines, as well as many a long line of executive managers.
---
PIASA facilitates air services
"PIASA is something you develop and leave it and regions or states will use it when it benefits them. It's not something you develop and implement immediately. We have been telling the Forum over the years that PIASA is an agreement that you sign and put aside. When you find some use for it, then take advantage of it. Because on its own, PIASA does not mean that airlines will be flying everywhere. It simply provides avenues to facilitate air services and carriers in the region. We have not seen any impact of PIASA on air transport in the islands. Anything that is happening now can still be achieved under the old bilateral type of arrangements."
---
Part of the challenge he admits is geography; remote islands with very small markets spread over a large span of ocean and air transport in this region is not for the fainthearted.
"We are so small and scattered over water which gives all sorts of limitations in terms of operation, flight over water, load, etc.
"There's not much outbound travellers, local economies hardly support travel so it's a very one directional kind of load.
"We bring them in, and we fly out those we had brought in some days earlier.
"It's very seasonal as well, only during Christmas or on school holidays do we see high demands.
"And costs are very high as your revenue comes in weak currencies but your bills are paid in US dollars namely.
"I think these are some of the challenges that ASPA tries to help its members with even if only to provide a forum where all airlines can come and meet regularly to discuss and share issues of common interests and try and find practical solutions."
Thirty years after it started, newer challenges Faktaufon believes have emerged in the islands aviation.
Costs up: Government interference has lessened but costs have not. Even airlines have been made to pay for heightened security as a fallout of 9/11, a cost which they have had to pass onto customers. No longer are states paying their full share of security. In addition, the ASPA executive would like more work done on public revenue as a huge percentage of air tickets now comprised taxes, said Faktaufon.
Officials should be thinking about concessions, rewarding and not penalising air travel. Also, a huge re-think he believes ought to be done on the inseparable link between airlines and tourism.
"I think the challenge we face now is that air transport is totally driven by tourism, inbound tourism.
"So we have got to focus on tourism as that is the industry that will dictate the level and growth of air transport.
"I think what the governments should focus on now are ways members can grow tourism.
"And when we talk tourism we are not only talking about hotels, but we are talking about everything; roads, water, power, infrastructure, shops, buses, and many other types of services.
"I think the days when tourists go to the beach to relax and sun-tan is long gone, it's not the main reason why they come now.
"Not only do we have to offer attractions and activities to keep them occupied, we should also provide things that will interest them."

Other constant challenges for regional airlines are inefficient airports, some of which are ill-planned and rundown.
"The problem with airports is that they are monopolies and we have no choice but to fly in and out of them.
"In many cases, we have to pay exorbitant charges, in some cases these charges are not justified.
"Some of these airports have been poorly planned and their terminals are riddled with defects, leaking roof, unworkable air conditioning, etc."
In a world where corporate governance calls for more accountability in the use of public finances, airlines most of which are owned by governments, have had to justify their use of public money.
Successful partnerships: Faktaufon said the last three decades have provided various options that "worked for some but not for others."
There's the very successful partnership between Air Pacific and QANTAS for instance. Polynesia Blue is another, which saw Samoa's Polynesian Airlines' international arm dissolved and the emergence of Polynesian Blue, a joint venture between Pacific Blue and the Samoan Government.
The spectacular demise of Brisbane-based Sky AirWorld company sfor Faktaufon vindicates ASPA's strong opposition to the formulation of PIASA (see box) by the Pacific Islands Forum Secretariat.
This common agreement for an open sky policy for all Pacific islands countries who are members of the Forum was introduced by those who claim it would lead to better air services in the region.
Safety is also high in ASPA's terms of reference. That is why it is a key member of PASO, the Pacific Aviation Safety Organisation.
---