From Fiji Times Online (11 July 2009)
Gibson is all heart

By Geraldine Panapasa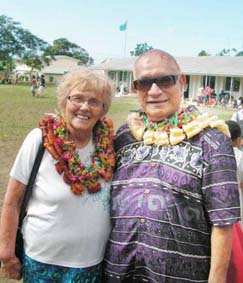 George Gibson, right, with good friend and former colleague from New Zealand, Joy Clark at the Levuka Public School's celebrations on Thursday.
picture by Geraldine Panapasa
TO the residents of Levuka, former and present, George Gibson is a man whose heart has always cared for the welfare of the Old Capital and her people.
The former mayor of the town will turn 80 next month but that has not halted his efforts for the community.
For more than 20 years, he has seriously immersed himself in community work.
Retirement from a successful teaching profession allowed him to do so.
Today Mr Gibson is chairman of the Levuka Hospital board of visitors and Norah Fraser Special Education School. He has also been an active member of the Fiji Red Cross Society.
"I've been involved in a lot of community activities and it's made my love for Levuka grow," he shared.
"I've done all this for the town because it is a part of my life and right now life is at a good pace for me.
His long and selfless contributions to the town's community have marked a special place in the hearts and minds of the town folk.
This was obvious on Thursday at Levuka Public School's 130th anniversary celebration, where he was one of two special guests.
Mr Gibson was born in Rotuma. He is originally from Itumuta district but was raised in Malhaha.
"I came to Levuka in 1939 where I was adopted by the Gibson family," he said.
"Towards the end of 1946, I attended Nasinu Training College and came straight to Levuka Public School after graduation.
"I never thought about what I wanted to be when I was younger but I've never regretted joining the teaching profession.
"Teaching has helped me a lot in my personal and public life. The thing I enjoy most about teaching is I get to help people. And that is what keeps me going."
He spent two years teaching at LPS before he left to broaden his knowledge in New Zealand in 1951.
In 1953, he married and was later transferred to Savusavu Government School where he taught for five years. He was again transferred to teach at Wesley School, which was then located at Furnival Park.
"I taught for a couple of years at Wesley School which is no longer in existence," he said.
"Shortly after, I became the colony's organising scout commissioner which was a different experience altogether but one I enjoyed very much.
"I spent two years in that role as commissioner and came back to Levuka to teach at LPS until I retired in 1990."
Aside from his humanitarian work, Mr Gibson is keen on the town being registered as a world heritage site. He is glad the town has retained its aura despite the gradual changes.
Much of it though is because of his conscientious influence while he was head steward of the town.
---
From Fiji Times Online (12 October 2015)
Gibsons call Levuka home

by Mere Naleba In Levuka

SEEING the struggle his own family went through in his young days in Rotuma was a motivational factor for George Gibson who has now made a name for himself in Levuka and nationally after claiming the title of the longest serving mayor in a municipal council.
Mr Gibson left the comforts of his Rotuman home in the district of Malhaha in 1939 when he was only 10.
He had accompanied his father's sister who he calls Aunty Mamao.
According to Mr Gibson, the Gibson family is originally from the district of I'tumuta but his father was adopted by relatives and was raised in Malhaha.
Aunty Mamao, as she is known to many people that lived in the Old Capital, relocated her entire family from Rotuma to Levuka after her husband, who Mr Gibson can only remember as Uncle Charles — a New Zealander, passed away on Rotuma.
"We came over here to Levuka mainly for education and I always admire my aunty because we were a big family and she continued to look after us. We didn't have much at that time and often had to get help from my uncle's friends who lived here," Mr Gibson said.
"I was born in Rotuma and my aunty Mamao adopted me."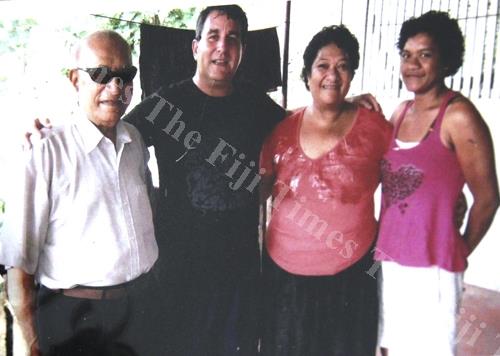 George Gibson with his grandson and family members. Picture: Supplied
Mr Gibson recalls his family had a "big" property in Rotuma, but had to lease the piece of land to the Catholic Church there because his aunty had bigger plans for the entire Gibson family who lived and witnessed the struggles one went through in search for a better living and future.
Levuka soon became home to Mr Gibson and his cousins Harry, Mary, Rina and Joe Gibson who were all Aunty Mamao's children, and soon all four siblings, including Mr Gibson, started their own families and now proudly call Levuka their home.
"When we came here from Rotuma, we had no home and moved around a lot. So with that experience, I made sure to buy my own house so that we, my children, grandchildren and relatives have a home to go to when they visit Levuka."
Now 87 years old backed by a colourful life of service to his family and the country, he holds many fond memories of growing up in Levuka than back on his island home of Rotuma.
Mr Gibson served as a teacher for 37 years and taught at Levuka Public School, Nasavusavu Government School and at the Wesley Primary School — a primary school that is no longer in existence but was located in Toorak where the Furnival Park is now located.
Mr Gibson soon married the late Jane Williams who has links in Tonga.
The late Ms Williams just lived a couple of houses away from where the Gibson clan lived in Levuka.
The couple have seven children who are all now grown up and living in Suva, Nadi, Australia, New Zealand, US, and two of his children opted to continue living in Levuka with their elderly father.
Soon after retiring from the teaching profession in 1991, Mr Gibson returned to Levuka and purchased their family home in 1992 where they live in today.
Mr Gibson said the house formerly belonged to the Brown family of Levuka.
Levuka is known for allowing the integration of cultures and different races as described in the book titled Levuka Living Heritage compiled by the people of Levuka.
Mr Gibson is also a contributor to the book published in 2001 in which he mentioned Levuka was a haven for whalers, blackbirders, sandalwood traders, mercenaries, missionaries and even misfits.
In the book Mr Gibson writes: "Fijians indigenous to the Island of Ovalau and those from all over the Fiji group have integrated here with the Melanesians from the Solomon Islands and Vanuatu, Polynesians from Futuna, Niue, Rotuma, Samoa, Tahiti, Tonga, Tuvalu, Micronesians from Kiribati and others from elsewhere in the Pacific."
Mr Gibson cannot recall the year he took up office at the Levuka Town Council in the position of mayor for the council and stayed in that post for 10 years.
"Two of my best memories while serving as the mayor of Levuka were the Back to Levuka Carnival, and secondly the overseas trips to Vietnam, Japan and Australia."
Mr Gibson has seven children and 21 grandchildren living in Fiji and abroad.
---