From Fiji Times Online (6 November 2007)
An art of endurance

by Paula Tagivetaua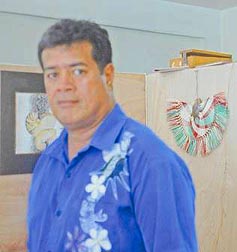 Harry Tivaknoa
HARRY Tivaknoa considers himself an artist among many things and after meeting and seeing the work the man has done I could only wonder.
He is an artist in the real sense but is modest about it.
He has a shop, work place and studio at Waimanu Road just a couple of paces up from the old Suva Hotel through the arcade at Procera House.
The shop or business is called Kapui, which is the name of a flower from his native Rotuma.
In Fijian the flower is known as the cevuga.
"The name is significant because the cevuga outlasts other flowers such as the bua, senitoa and senijiale.
"It has an enduring nature because of its thick petal and that is what I want, the enduring nature, in my business and also in our people," Harry said.
Kapui sells uniquely designed sulu as wrap-around, sulu as in Fijian or suluvakataga, shirts, jiaba and a variety of ear rings, bracelets, necklaces, belts, paintings and prose.
He also has a shop at Downtown Boulevard.
The unique thing about Kapui is that the materials used are simple, many of which many of us would discard as rubbish such as the coconut shell or qanibilo, coconut husk for magimagi, the bark of the coconut tree or vulo, shells, masi and voivoi.
"Many of us use the qanibilo to throw at dogs but I use it to hand-carve into flower designs and paint them.
"The designs, I use to handprint sulu, shirts and jiaba."
When I met him, he was sporting a blue shirt and black sulu with his designs.
He now employs 10 staff - a far cry from when the small beginning 13 years ago using basic materials he mentioned.
After more than a decade, he has taken up much of the space at the arcade.
"As a local business, I would say things are looking good at the moment but I am still learning."
His shirts range in prices from $35to $55 and jiaba from $90 to $100.
He also takes orders from people who do not want to wear the same costume or design as the others to a party ù people who want to be different in style.
Harry is a practical man.
"I just want to show our people that I can do it and I can prove it and if I can do it, anyone can do it.
"But you got to have the go in you to do it. "You can have all the bilo and material around you but if you do not have the will, then you will not be able to do it.
"You got to trust yourself and of course you have to ask for help from above."
At the rate Harry is going, I would not be surprised if Kapui grows to be bigger and better.
The man has the business acumen and drive in him. He is also a very talented musician and composer but that is another story. I will tell you that part of Harry Tivaknoa later.
---