From Fiji Times Online (9 August 2010)
Meet the 'Bull', Iliesa Irava
by Sera Whippy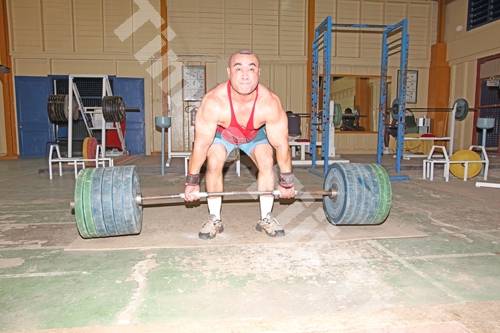 No guts, no glory...Iliesa Irava trains at the Hyundai Fitness Centre in Suva
Fiji Powerlifting President Iliesa Irava, aka the Bull, is a living testament of the sport.
His journey, which began from simple beginnings, with a combination of hard work, determination and commitment, has ended in the high echelons of powerlifting in Fiji, even becoming one of the best powerlifters in the country.
He grew up in Rotuma and hails from Losa Village while his mum is from Motusa and he came to Suva to attend Cathedral Secondary School.
Since arriving in Suva he has sought to make a life alongside many other Rotumans in Fiji. With the help of the Rotuman community, Irava has pushed forward and successfully grasped dreams he never thought he could even achieve.
In high school he took up javelin and it was in the 1982 Juicy Games that he created a record in the Intermediate Boys javelin event. This was to be the first of many more victories to come his way.
Irava joined the Kelton Group in 1988 and on his return to Fiji in 1993 from Papua New Guinea he was introduced to the late Tifere Ravai, who was a gold medallist at the 1995 Tahiti South Pacific Games. Also with Ravai were a few powerlifters - namely Joseph Chong, Richard Ram and Benjamin Fatiaki who were training in preparation for the 1995 Tahiti SPG.
This was where Irava's life took a turn.
"They talked me into the sport and since there was a need for someone who could compete in the 100kg category, I saw this as an opportunity to set foot on the island as my dad had done during his sailing days," he said.
"I became interested and that was the beginning of my powerlifting endeavours.
"The trials came and I made the SPG team to my delight. This was also the first time powerlifting was to be hosted in the SPG so it was great to be in an inaugural team to leave our shores to compete with the team winning their first-ever gold medal and four bronze medals," said Irava.
Powerlifting requires specialised training that focuses on strength and explosive power.
For those of you who are not too sure about the difference between powerlifting and weightlifting, Irava has a great way of explaining it.
"Well weightlifting is an Olympic sport which has two lifting disciplines — snatch and clean and jerk.
Powerlifting is a non-Olympic sport with three disciplines — squats, bench press and dead lift.
The other simpler way of differentiating between the two sports is that weightlifters toss the lifting bar around while powerlifters bend the lifting bar," he said.
"In powerlifting there are no shortcuts, there is only correct technique, proper lifting form, consistency with focus in training and a healthy diet. What you do at every quality training session which accumulates over time, is what creates the vital aspects of the sport."
Before joining the powerlifting team, Irava was a member of the winning 1990 Fiji Bodybuilding team to the Oceania championships in Australia.
In 1995 he took part for the first time in powerlifting at the Tahiti SPG but was unable to win a medal. He returned home and won Fiji Games gold medals, from 1995 to 1998.In 1997 he won Gold at the South Pacific Mini Games in Samoa and gold at the TQM-sponsored championships in Suva.
He was a nominee at the Fiji Sports Council Sportsman of the Year division.
A bronze awaited him at the 1998 Oceania Championships in Napier, New Zealand, and the next year he won another bronze at the Australian Open/South Pacific Challenge Powerlifting Championships along with the Best Overall Bench Press Trophy.
The same year he flew to Finland to attend the World Open Bench-press Championship VAASA where he was placed 12th.
He took a breather in 2000 but was back in business in 2001 where he won the Best Overall in the Drug-free Powerlifting Championship in Suva and added another Fiji Games gold medal to his collection.
Year 2002 saw him take off to New Zealand for the Oceania Power-lifting Championships in Tauranga and he earned himself a silver medal and, upon returning, he added another Fiji Games gold medal to his hefty collection.
His most treasured and fondest memory was during the South Pacific Games where he won a gold medal in front on his family and friends on home turf.
Silver came his way at the Oceania Powerlifting Champs in Suva in 2004 with another silver making its way to him at the Oceania/New Zealand National Bench-press Champ at Whangarei.
In 2005 Irava competed once again in the Oceania Powerlifting Bench-press Championship but now he was in the Masters Division. He won a gold medal. No surprise there, right?
Later that year he found himself in Cumberland, England, where they were hosting the Commonwealth Powerlifting Championships.
Irava showed them what he was capable of and won himself and his nation a silver medal.
He definitely is one of a kind.
He was runner-up at the Fiji Sportsman of the Year Award. The next year he was a golden one as he whipped up two gold medals at the Oceania Powerlifting Championship in Townsville, Australia.
When 2007 rounded the corner, Irava was on fire and no one could stop him. He won a silver medal at the SPG in Samoa and then he took part in the Commonwealth Championship, which was held in Christchurch, New Zealand, leaving with three gold and a silver medals.
In 2008 he was unable to compete in the World Masters Powerlifting Championship, which was held at Palm Springs, USA, because of medical reasons.
This year Irava is more centred on coaching for next year's Pacific Games. He is preparing a team which consists of 2008 World Masters Silver medallist Senimili Turner, Iva Nancy (gold medallist, Samoa) Elesi Ikanidroka (Oceania gold medallist) Helen Pahulu (Oceania gold medallist), Ana Garnett, Mozima Irram, Suliana Kolitagane, Rosemary Korolima, Sainimere Abariga, Inise Naisara, Naimasi Naiyalatabua, Suliana Cavu in the women's team.
In the men lifters there is Iliame Vereubia (Oceania gold medallist), Maroof Ramzan (Oceania gold medallist) Lorance Visanti (Oceania gold medallist) Eric Jioje (Oceania silver medallist) Jolame Rasova, Keresi Ali, Lorenso Fonmoa, Terence Taukave, Koroi Vu and Isikeli Nakalevu.
"I am looking at coaching this time around because I have been to these Games and have done the dues so let's give the upcoming younger lifters the chance to compete," Irava said.
"We have done that in the past Games, taking junior lifters who have competed and won gold medals and set games records also in the open category.
"I always believe in the younger generation."
Irava aims to have more young youths competing locally and overseas so that they could better the World Championship platform level set by current lifters like Senimili Turner's achievements at the world stage — winning three silver and one bronze medals.
He is also a family man with three sons and a beautiful daughter who he loves and cherishes with his beloved wife.
"The sport has fulfilled my dreams of travelling around the world twice which I wasn't able to afford to do that.
"On the lifting side of powerlifting I have learned to respect the values of fellow competitors, colleagues, friends and family," said Irava.
"I would like to mention that even though this is a minor sport with minimal funding we did achieve the first, and one of the highest level attainment for the federation and the nation, in the 2008 World Masters Championship Palm Springs, USA.
"Senimili Turner won three silver and one bronze medals at that championship and yet she was not even considered at the prominent sports awards for that year despite the hard work from a non-Olympic sport.
"The only regret was that I was introduced late to the sport. I started competing at the age of 30 but I wish I could have started my career in my teen years," he said.
---