Vaivao John Elcombe Antonio, OAM, RegCMC
Born Vaivao John Elcombe Antonio in the Colonial War Memorial Hospital, Suva, on 10 December 1932 of Rotuman parents, Elakima and Ane Antonio, both of Noa'tau although the former had a parent from the hamlets (hanua noh rua) of Paptea and Sauhata in Oinafa. John, grew up and was educated with Fijians most of his unforgettable childhood in their indigenous environment. He belongs to the 'Urakmat, Fonmon clans and Pavau tribe of Noa'tau
His first job at I7, in 1949, was as a male clerk shorthand-typist in the Fiji Public Relations Office, and later as junior journalist trainee. He joined PWD District Engineers Branch, Walu Bay, as a clerk and from 1955 to 1958, he was employed by the New Hebrides Condominium Government in Port Vila, in what is now Vanuatu, as a senior clerk. He also worked as an immigration clerk for the Australian Consulate, Noumea, New Caledonia. From 1958 to 1962 he was employed by the NSW Tourist Bureau, Sydney Branch, as a public relations officer. On October 14, 1962, he married and left for Europe with his wife Shirley for a year working holiday.
In 1964 they returned to Australia and John took diploma courses in criminology and social work studies while being self-employed as a freelance photojournalist in Brisbane. From I971 to 1988 he was with the Department of Social Welfare in New Zealand as a residential social worker. He studied part-time for his University entrance through the Centre of Continuing Education, to enable him to enroll at Auckland University. He successfully passed all his exams and was employed full-time as an upgraded social worker. He retired in 1988 and returned to Australia to settle down.
A former NZ registered civil marriage celebrant, John became an Australian Regulatory CMC Manager and continued to-date his freelance photo-journalism and long membership with the Australian Media, Entertainment and Arts Alliance Inc. He, along with his wife, has been a community volunteer for many years while pursuing his fulltime professional career, including participation in various government committees, councils and organizations such as neighborhood watch, crime stoppers, court support, volunteers-in-policing, International Lions Clubs, and groups concerned with domestic violence. Both he and his wife have been presented with several awards over the years, including one of the nation's highest, the Medal of the Order of Australia (OAM), which was awarded for their tireless and valuable contributions to the community and the country as a whole. The couple have married for over 50 years. They were both married previously and between them have six children and several grandchildren and great grandchildren.
Left to right: John Antonio OAM., the PM Kevin Rudd, his wife, Teresa Rein., former Premier and first woman Premier of Queensland, Anna Bligh and Shirley Antonio OAM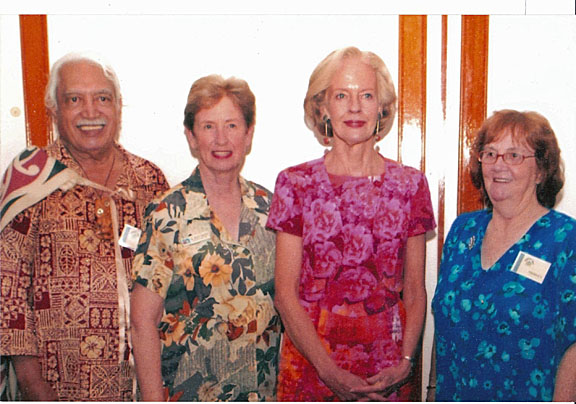 Left to Right: John Antonio OAM., Deputy Mayor of Redcliffe City Rita Smith, HE The Governor-General of Australia who is also the first woman Governor-General , Ms Quentin Bryce AC, CVO and Shirley Antonio OAM.

---