From Fiji Times Online (7 August 2009)
No farm boy
By Geraldine Panapasa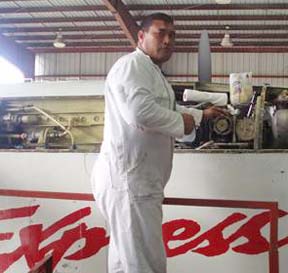 Josefa Haukoulua
Farming was the only option for Josefa Haukoulua growing up on Rotuma as a young lad but as time passed, he fought the obstacles that hindered success and is now a refrigeration and air-conditioning technician in Pagopago, American Samoa.
The 38-year old hails from Itumuta and is the eldest of four and the one admirable fact about his life is his determination to be more than just an ordinary farm boy.
He struck me as the kind of man who would go to great lengths and sacrifices to live a better life.
"I grew up in Rotuma and I had no intention of wanting to become anything. I left school at an early age and I continued to stay on the island. Farming was the only life I pictured," he said.
"Growing up on Rotuma was not easy but I thank the Lord for his help and guidance throughout my life."
He attended Motusa Primary school and while opportunities to further his education were limited, Josefa pushed on to secure a comfortable profession he thoroughly enjoys.
From farm boy to baker at the Family Loaf Bakery in Nadera, Josefa spent two years at the bakery before joining Streamline Refrigeration from 1988 to 1990.
"After Streamline, I joined Suli's Refrigeration then Crest Chicken Limited until 2000," he said.
"It was some time during October of 2000 when I saw a vacancy in the newspaper with Islands Choice Inc.
"I sent my application and two weeks later I received a phone call for an interview. After a week or so, I got a proposal letter in the mail for the job which I then accepted."
The move to start a new life in Pagopago was not entirely a new transition in lifestyle.
Josefa said the island feel in American Samoa made him feel right at home.
"I came prepared and I knew what was expected of me in terms of the job description. American Samoa is a Pacific Island so the people and culture is similar to ours," he said.
"There were some challenges and one for me was the theory side of work. I did not have a good education so I found theory work very difficult.
"However, I've learned a lot from this line of work especially from my late uncles Samuela Mario and Faga Alifereti, Suliana Jiare and Damian Linsdell.
"They encouraged and helped me during my many years in the field.
"When I was working at Crest Chicken, they sent me to complete my studies at the Fiji Institute of Technology and Fiji National Training Council."
Josefa draws inspiration from his grandfather, Tausau, who he says lived a hard life to support the family. He said even at his grandfather's old age, he continued to work hard to support the family.
"This really inspired me to work hard. I could tell he was a very hard working person during his early age but there were a lot of people who kept encouraging me to do my best," he said.
"My secret to success is to work hard and enjoy the job you are doing. But for those thinking of a similar profession, get a good education and don't give up easily. Keep trying."
Josefa is one of many former Fiji-residents achieving success overseas and if there is one memory of life he hasn't forgotten, it is the struggle he went through to get to where he is today.
He is married to Rowina and they have three sons.
---