From Fiji Times Online (29 July 2007)
Bagasau boy brings band
by Gabriel Singh
KEPONE Fiu is a true believer. He lives the roots rock he earns his living from.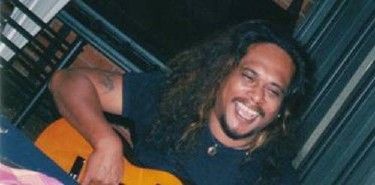 Kepone Fiu returns to perform in Fiji for the first time, appearing on bass for Cool Runnings
The one-time flight information officer is practically flying at the prospect of a home boy strutting his stuff in front of his people.
Kepone is the driving force behind acclaimed Australian reggae outfit Cool Runnings jamming here for the next month and even possibly setting up base in Fiji for flings around the wider Pacific basin.
This month will indeed be an August month for anyone for whom reggae is in the blood.
For the next four Thursdays, Cool Runnings look set to pack Fiji's pioneering nightclub, the Dragon, on Victoria Parade, in Suva.
The Oz musos, who boast more than one Fiji blood connection, step in to fill the void of a class local reggae act on the beat.
Kepone's story is typical of any Pacific islander living away from their land of his birth.
Although, an Australian national he heeded the call of his blood by returning home to help his mother recover from a stroke she suffered a couple of months ago.
In the two months he has been 'home', he has cajoled, pleaded and, even at times, lovingly forced his mum to look at her recovery positively.
Those positive vibrations even saw him roping in a troupe of local jammers to perform for his people from Tuakoi Village, in Motusa, on Rotuma, as they celebrated their annual root crops competition.
"All the gagajs were there bro, it would have been an insult not to perform for my people," he states simply.
Now, with a little bit more time on his hand, the former Dudley High School student who was born and bred in Bagasau, Toorak, and who lived in the reggae heartland of Raiwai for a while, is giving back musically to the land of his birth.
In fact, he still is so enamoured with Bagasau that he spends as much time as he can at his brother's place there, in the very barracks from which he used to pound around the neighbourhood.
Most of his friends are now married with children and Kepone makes time every Saturday to go watch his "nephews" play for the Charles Street Toorak Blues rugby team in the Suva competition.
It is that touch with the grassroots people of his youth that has half of Suva looking forward to his free gigs at the Dragon.
For that he has the services of Jemesa Purmodh, another Fijian who has spent much of his life making music in Australia.
Jemesa, who has links to Suvavou, even has his daughter, Lisa, on drums for the Cools Runnings stint here.
They are accompanied by Barbadian George Gill and Paul Verma, both of whom should feel equally at home here.
All the musicians in the group that first hit the road in 2003 have paid their own way here to set alight the reggae scene.
Kepone admitted Cool Runnings was formed to fill the void of down time when the members were pursuing their own musical directions or on the road with other bands.
The consummate businessman, Kepone, who brought the Zimbabwean jit-jivers Bhundu Boys to Fiji in 1993, has formed a promotion company called fittingly Maflelei Limited with lawyer Kafoa Muror and Walter Rigamoto.
With the legal aspects of his stay in Fiji locked down, he turned his attention to music, cutting short, real short, a stint with the now defunct Rootstrata.
For the past few days, Cool Runnings has been practising at Pacific Harbour because they want to make a strong impression on debut with their blend of reggae, zouk, soca cover and original tunes.
The bass master who spent years with Calabash, which overshadowed Jamesa's Un Tabu of the 1980s, as the premier reggae band Down Under in the 1990s, says their originals will be a delight.
More recently he was with Two Tribe, a group that featured ex-Rootstrata drummer Kit Mateyawa, who earned his sticks at the 1987 Cyclone ReggAid jam.
"I like the bass because it is the pulse of the beat. "Rupeni (Davui), Joe Heritage and Marika Gata were the guys I looked at as my heroes growing up in Suva."
But Kepone admits he was drawn to holding down the rhythm and playing bass simply because he adored Rupeni Davui, another Aussie-based Fiji who was an integral member of Un Tabu.
"In Australia, it is largely a rock-jazz culture musically. Reggae is the bottom end of the market," he says. "But, bro with easily at least two million reggae lovers there, it's not hard to build a niche from which to make a living."
He expects to build a cult following here, saying, "Man listen to the radio and all the Fijian music is largely reggae-based".
"That is very encouraging for us. I'm surprised there's so few active reggae bands here when 80 per cent of local sound is reggae influenced.
"As far as I know there's only First Tribe playing regularly," he said.
Kepone rubbed shoulders with the best in the business, even Lucky Dube, in 1991 when the South African angel of Jah was barely known outside the small circle of reggae-ites here.
It is the first time he will actually be playing in Fiji as a full blown reggae musician, something that has been a dream for almost 30 years.
He says Oz rootsmen and women seldom want to come to Fiji and the South Pacific because they know the people can not afford they $30-$45 ticket prices normally charged at venues in Australia. "Besides man, you know, the islanders Pacific or Caribbean want to hit the US or Europe trip. This part of world doesn't hold attraction because we are it. We know what life here is like.
"But it doesn't mean we've forgotten who we are. I've been wanting to play here for so long," the boy turned man whose dad worked for the Suva City Council for over 40 years said.
The consummate businessman, he diplomatically shied away from openly criticising the lack of get-up-and-go among local music makers, especially reggae groups but did admit he was bewildered by some of the happenings here.
Ever the realist he pointed that unless a group had its own equipment, it is hard to do what is one's first love.
"Over here, bro, the hotels have all the best gear. Bui they're not into reggae. They want the more sigi drigi kind of serenading or simply impressions of what's popular around the world.
"That is understandable because hotel bands have to pamper the ego of tourists.
"Reggae is about pampering a personal desire and the lack of gear hobbles groups."
When not jamming at the Dragon on Thursdays, Cool Runnings will be found on Friday evenings playing the Tiki Pool Bar in Pacific Harbour.
That's not all though, they're even open to offers for jams. Anyone wanting to sign 'em up can email Kepone at: coconutreggae@hotmail.com
Already the next generation of Pacific roots rockers are rattling away, with son Tahi Johnson Fiu, at 7 years, able "to hold the groove" as his father says.
Kepone promises music lovers will be over the moon with Cool Runnings and their groove. So if you love live music, make your way to the Dragon every Thursday this month for the time of your life. Jah live.
---