From Fijitimes Online (29 August 2008)
Leo has a second chance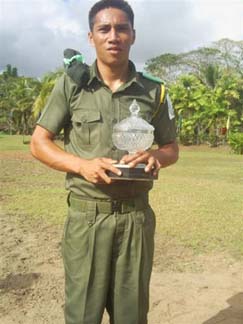 Leo Vucu
TWO YEARS ago Leo Vucu, 17, then a Form Four student of Tabia Sanatan College outside Labasa felt despair when he received his Fiji Junior Certificate Examination results.
He had barely passed, had failed most of his subjects with the exception of woodwork, his favourite.
"I felt so sad because I had achieved a very low C grade and knew I would have difficulties getting enrolled in Form Five," Mr Vucu said.
"I had tried so hard, studied so hard but still when I saw my marks I was shocked and didn't know what else I could do to improve," he added.
"I was particularly unhappy knowing I could be a high school dropout and that embarrassed me. Kids can be pretty cruel in school so all these thoughts went through my mind when I saw my results."
But Mr Vucu, who thought of re-sitting Form Four, had an even bigger problem to consider.
"I no longer had the interest to study the same subjects. The only subject keeping me in school was woodwork," he said.
"I totally felt nothing for Maths, Accounting or Agriculture and struggled with English yet at the same time I did not want to turn out a failure in life. I wanted to succeed, earn an income and become something in life," Mr Vucu said.
At his wits end, the realisation that his passion for woodwork could very well make his future dawned on Mr Vucu.
"I love using my hands in creating things, turning plain pieces of wood into something of value so I decided not to waste any more time in high school and start working using my talent," he said.
Two years after that day, the young Rotuman proudly marched up the school ground at the Montfort Technical Institute in Savusavu in front of a huge crowd of students and parents as his name was called out to receive the Baton of Honour at the school's pass out parade.
"I faced my fear and shame of being a high school dropout, enrolled at Montfort and I am now completing my second year in a three year Certificate in Cabinet Making and Upholstery course," he said.
"I am studying what I love doing and later on I intend to start my own business once I find the right amount of capital," he added.
But studying woodwork comes at a price.
"Being a boarder is no easy feat. We do a lot of hard work like weeding and planting root crops," he said.
"I remember my very first day at school and we had to weed a big dalo and cassava plantation from about 8.30am to 1pm. By 10.30am I had basically given up because I was so tired and the sun was so hot," he said.
"I think I even cried and all I wanted to do was go back home and then one of the senior boys told me 'sa sega ga ni rawa lesu i vale."
"But strangely those words made me determined to succeed and here I am now doing just that. I have one year to go and even though I did drop out of school, it was only to do something that I believe will prepare me for an even better future."
---