From Fiji Times Online (12 March 2022)
By Shanelle Prasad
The Rotuman weaver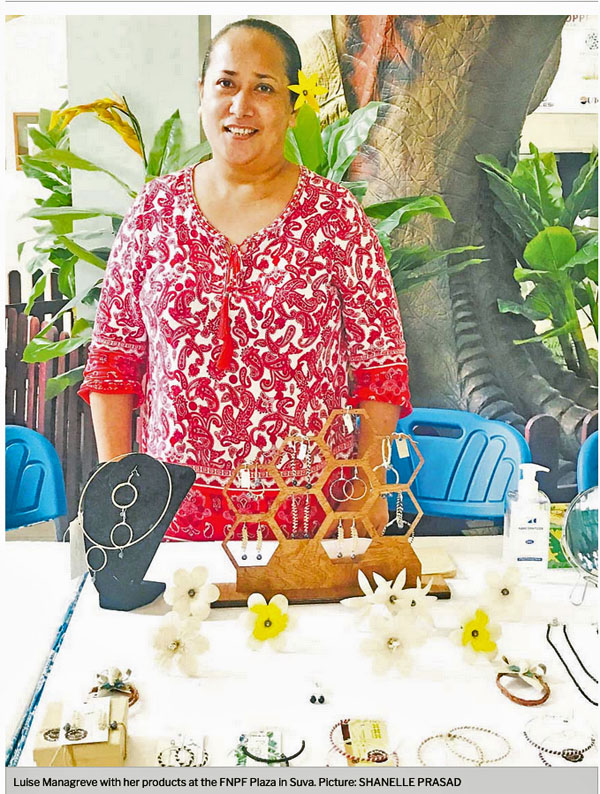 Luise Managreve believes young women ought not to be bound to the preconceived notions of society because there are more than enough opportunities out there, even if it means raising children on their own.
Managreve is one of those women who had created their own life path from a skill learnt in her young days.
The 48-year-old is both a traditional and contemporary Rotuman weaver who makes adornments, waist mats, traditional mats, wall hangings and photo frames, a career she began more than 10 years ago.
"I joined the Suva Rotuman Women's group and created my business Pasifika Creations," she said.
"I've been working with them doing traditional and contemporary weaving and crafts."
The mother of two said creating handicraft items is a useful lifelong skill that can be passed from one generation to another.
As a young girl, she learnt the basics of weaving from her mother back in Rotuma.
"When I was in my 20s, I joined the Suva Rotuman Women's group and that's what inspired me to continue doing what I'd learnt on the island."
Managreve moved to Suva in 1991 right after completing form six at the Rotuma High School.
"I took secretarial classes and I even worked part-time at a few places here in Suva," she said.
Prior to starting her business, Ms Managreve was involved in administrative work, but she had to leave work after the birth of her first child.
"I had a babysitter looking after my baby," she said.
"But then after one particular incident, one time when my baby got hurt, I thought, that's it.
"That's when I stopped working. I didn't want anyone else to look after my child."
These days Ms Managreve focuses on her work which is mostly done with local material such as voivoi and masi.
"I sell my work at all other markets like the ROC Market, the USP market and also at the Garden City market," she said.
Ms Managreve shares a table with her cousin at the FNPF Plaza in Suva and she's grateful to the Fiji Arts Council for creating space for businesses such as hers.
However, her business dealings, like countless others, have taken a direct hit from the pandemic that resulted in her not being able to meet with members of her group regularly.
"Before COVID, we'd meet like every week, once a week," she said.
"But we hardly met the whole of last year.
"However, some of the women continued with their craft despite the pandemic."
Together with her experience, which she willingly shares, Managreve is also encouraging all women to make the most of their opportunities.
"I want to encourage the young women of today. There are lots of things you can do, like we all have our different talents.
"So, make use of your talents in any way you can, whether it be making crafts, cooking, sewing or arranging flowers."
---