From Fijitimes Online (4 September 2008)
'Tropical root juice' man
by Mereseini Marau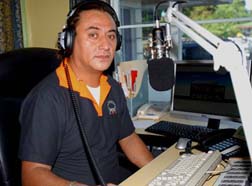 Michael Faga
He is a popular figure among the Catholic community in Lautoka.
And he is making a name for himself in the broadcasting industry.
Michael Faga (pictured) is no stranger to listeners of Mix FM. He is the host of the AM Kick Show on the other side of midnight.
"I joined the station eight months ago and I have been a host of that show," he said.
"While most of you are tucked away in bed or spending the night elsewhere, I am there to keep you entertained and help you get through the night."
Michael will take you through the night with his selection of music, which is of great help if you are burning the midnight lamp.
And if he is to have a trademark - then it's "tropical root juice" - a term he coined to refer to kava or yaqona.
Michael is no ordinary Rotuman man.
He is so gifted, creative and very involved in community outreach programs.
He will keep you entertained if you have to cross his paths.
The vocal Michael has come a long way in life.
Originally from Juju in Rotuma, Micheal was born in Vatukoula as his late father was a geologist at the gold mines. He has six younger siblings who have their own families.
Due to his father's job, the Faga family was not stationed at one place.
So he grew up in Suva and was educated at Marist Primary School before completing his secondary education at Marist Brothers High School.
After high school, Michael returned to Vatukoula and helped in a family business at the Hot Bread in Tavua.
He had a short stint in the hotel industry in Nadi where he was a waiter at an eatery in Nadi for four years.
But the calling from Vatukoula was too much to be ignored.
He was one of the pioneer staff of Koula FM with other journalists like Vasiti Ritova, Serafina Silaitoga and Christine Goundar.
While the rest of his colleagues left for greener pastures, Michael thought his services were much needed at home.
"But I told them, you go, don't worry I will catch up," he said.
Koula FM was a stepping stone for him.
During his stint there, he used to go to Bula FM on attachment.
That gave him the exposure and skills he needed as a radio announcer.
He left Vatukoula in 2001 and came to Lautoka. And he did not know that it would be a turning point in his life.
He is convinced that the Sugar City would be his new home.
During all those years ever since he moved from the Gold Town, Michael has been heavily involved in community work.
Every time there is a function or carnival, you will surely see him there.
Because of his skills and personality, he is a much sought after MC in Lautoka.
Michael is a committee member of the Sugar Festival in Lautoka.
Michael is heavily involved with the Our Lady of Perpetual Help in Lautoka especially its kindergarten.
And he makes a point of attending mass every Sunday.
"If I go to mass at 7am, the whole neighbourhood will know because after that they will see me out of the house," he said.
"But if I don't, I will always stay in the house."
He believes in God and believes that He has helped him in life.
Micheal wishes that his parents were still alive to repay them for what they spent on him.
And he has called on young people to value what their parents have given and done for them.
---