From Fiji Times Online (21 December 2008)
A man for the people
By Geraldine Panapasa.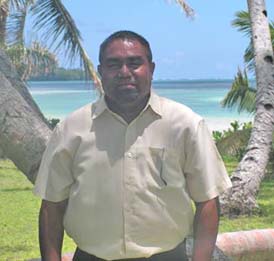 One with the people ... Nicholas Ting on the island of Rotuma
As soon as he arrived, the men quickly grabbed a chair for him to seat on while they settled on the mat in front of a full tanoa of yaqona.
But Nicholas Ting pushed the chair aside and sat on the mat with the common people of Rotuma.
The District Officer, Rotuma is considered an ordinary person on the island because he brings himself down to the level of the people.
During my one-week trip to Rotuma, Nicholas and his wife Julia Rounds played hosts and their hospitality was overwhelming.
So it only made sense to go behind the scenes to find out what made this humble man an average local on the island.
The eldest of five children, Nicholas was born and bred in Lautoka.
His ancestors hail from Naduri in Vanua Levu while his mother is from Cikobia.
He attended primary school at Lautoka Methodist before completing high school at Natabua.
"When I was younger I wanted to be an electrical engineer," he said.
"After high school, I did foundation studies at the University of the South Pacific in 1987.
"I didn't complete it and got a job as an electrician at Lees Trading for a year.
"I left and joined government as an electrical apprentice."
Nicholas then worked as a clerk at the District Office in Rakiraki for two years.
He was then transferred to Lautoka hospital.
With hard work and determination, Nicholas became commissioner for the North-Western division.
"From 1992 to 1994, I was district officer Lautoka. The next six years from 1994 to 2000, I was district officer in Nadi and assistant district officer in Macuata," he said.
"In 2005, I was transferred to become district officer of Labasa for a year.
"In 2006, I was transferred here to become district officer of Rotuma. There are a lot of challenges like in Labasa for instance. One of the challenges then was dealing with the expiry of land leases.
"I took the position in Rotuma willingly and for me the challenge then was getting to know the language, culture and the people."
With a hands-on approach to the job, Nicholas has his family especially his wife to thank for the accomplishments in his life. Most of the time his work involves going out into the different communities to deal with matters that involve the development of a particular area.
And with a very understanding and supportive family by his side, Nicholas attributes his success to his family.
"I keep work separate from my personal life. For a job like this, your family has to be understanding," he said.
"For me, the work involves going out all the time visiting different areas. My wife is very understanding and whenever I have time, I spend it with my children."
The proud father of three says more incentives should be provided for future district officers posted to remote areas.
He said Rotuma is far away from Fiji and if incentives like a trip to Fiji once in a while were given, it would make the job more enjoyable.
With no particular role model in mind, Nicholas sets standards in his life and works hard to maintain that high standard.
10 things about him
* Cooks occasionally especially on Sundays;
* Doesn't smoke or drink alcohol;
* Considers fried fish in lolo and eggplant to be his favourite dish;
* Enjoys reggae and hip hop sounds;
* Fishing, reading and watching movies are his favourite hobbies;
* Loves spending time with family especially his children;
* Sets standards and works hard to maintain it;
* Describes himself as a happy-go-lucky and jovial man;
* Likes to go the extra mile when told to do something; and
* He was brought up by his grandparents.
---